Pendampingan Peningkatan Softskill di Panti Asuhan Pelita Harapan Kecamatan Medan Petisah Kota Medan
Keywords:
Soft skills, Children, Orphanage
Abstract
Pelita Harapan Orphanage has endeavored to nurture and care for the children in various aspects, including education, physical health, and spiritual development. However, the educational services in the orphanage face a major problem related to the limited number and educational backgrounds of the caregivers, which hinder the nurturing process in the orphanage. The formal education received by the foster children is still considered insufficient in enhancing their character and skills to meet future demands. The informal learning in the orphanage has not undergone updates like those implemented in modern schools today, thus not providing optimal improvement in the learning abilities and character of the children in the orphanage. To address this issue, a soft skills approach is implemented to shape the character and develop the skills of the orphanage children. This approach involves a learning and character-building process through engaging and motivating activities that encourage critical thinking and exploration of new things. This process also adheres to ethical values, local wisdom, understanding of national diversity, and care for the environment. This research aims to enhance the soft skills of the children in Pelita Harapan Orphanage, with a focus on building a strong character, developing social and intellectual skills, and preparing them to face a complex future. The research methodology involves preparation, problem identification, observation in the orphanage, and interviews with relevant parties. With the soft skills approach, it is expected that the children in Pelita Harapan Orphanage can become resilient individuals capable of critical thinking, creativity, and innovation in facing various unpredictable situations and conditions. Through a combination of attitude, knowledge, and skills competencies, the foster children have the potential to maximize their self-development and make positive contributions to society.
Downloads
Download data is not yet available.
References
Brungardt, C, P. . (2011). The Intersection Between Soft Skill Development and Leadership Education. Journal of Leadership Education, 1 (10), 1–22.
Cimatti, B. (2016). Definition, Development, Assessment of Soft Skills and Their Role For The Quality of Organizations and Enterprises. International Journal for Quality Research, 10(1), 97–130. doi:DOI – 10.18421/IJQR10.01-05
Elfindri, dkk. (2010). Soft Skills untuk Pendidik. Jakarta: Baduose Media.
Elfindri, dkk. (2015). Soft Skills untuk Pendidikan. Jakarta: Baduose Media.
Hamid Darmadi. (2013). Metode Penelitian Pendidikan dan Sosial. Bandung: Alfabeta.
Ichsan, S. P. (2005). Sukses dengan Soft Skill. Bandung: Direktorat Pendidikan ITB.
Jumanta Hamdayama. (2015). Model dan Metode Pembelajaran Kreatif dan Berkarakter. Bogor: Ghalia Indonesia.
Saeful, Z. (2015). Revolusi Mental, dalam Praktik Soft Skill. Bandung: Penerbit Media Perubahan.
Samani, M. dan H. (2011). Pendidikan Karakter. Bandung: Remaja Rosdakarya.
Sucipta I Nyoman. (2009). Holistik Soft Skill. Denpasar: Udayana University.
Suhardjono, dkk. (2014). Penelitian Tindakan Kelas. Jakarta: Bumi Aksara.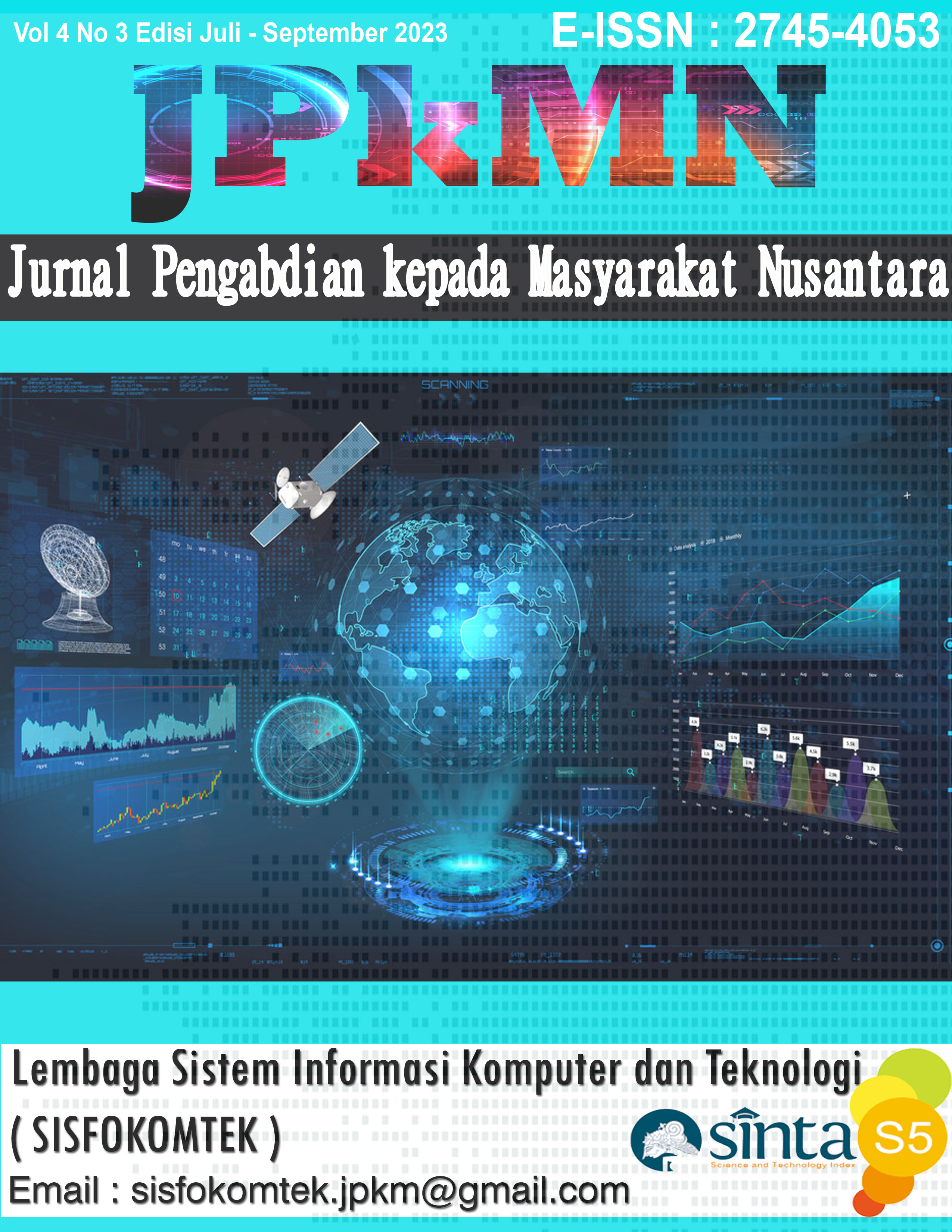 Downloads
How to Cite
Alindra, D., Tarigan, B. A., Sitorus, F. R., Keliat, V. U., Br. Barus, D., & Siregar, A. P. (2023). Pendampingan Peningkatan Softskill di Panti Asuhan Pelita Harapan Kecamatan Medan Petisah Kota Medan. Jurnal Pengabdian Kepada Masyarakat Nusantara, 4(3), 1626-1633. Retrieved from https://ejournal.sisfokomtek.org/index.php/jpkm/article/view/1137
License
Copyright (c) 2023 Devi Alindra, Beby Astri Tarigan, Friska Ria Sitorus, Venia Utami Keliat, Depitaria Br. Barus, Andini Pratiwi Siregar
This work is licensed under a Creative Commons Attribution-ShareAlike 4.0 International License.