Strategi branding membangun Brand Identity pada UMKM
Keywords:
Enterpreneurship, Brand Identity, UMKM, Product Introduction, Consumers
Abstract
The development of the times requires introducing its products more easily and modernly to consumers through a brand. The writer who did community service in Nglebak Village, Jombang Regency found the problem of a Brand Identity that was not yet known by MSME owners, so it was sparked to help several MSMEs in introducing what Brand Identity was. With the method 1) Socialization of UMKM inviting a resource person in their field, 2) Followed by assistance in making UMKM Brand Identity, and 3) Inauguration of 3 Brand Identity accompanied by physical handover to 3 (three) UMKM, namely a) Pesona Mebel, Mr. Suparno's business which operates on furniture or furniture made of teak wood, b) Snacks from Mrs. Seniti, a culinary business with the superior product banana chips from Mrs. Seniti, and c) Rahayu Wilujeng Salted Egg owned by Mr. Muslimin who processes his home-breed duck eggs into ready-to-eat salted eggs. As a result, UMKM in Nglebak Village, who previously did not know the importance of brand identity, are now able to understand the importance of a Brand Identity after following the stages of the author's method of implementing community service. With the Identity Brand which is starting to be built, it is hoped that it will be able to sustain the UMKMbusiness.
Downloads
Download data is not yet available.
References
Ainun, Nurul, Rian Maming, and Altri Wahida. 2023. "Pentingnya Peran Logo Dalam Membangun Branding Pada Umkm." Jesya 6(1):674–81. doi: 10.36778/jesya.v6i1.967.
Arum, Dewi Puspa, Ananda Nabila Laraswari, Alifah Rizky Wiyanti, and Cita Devi. 2023. "Pemberdayaan Usaha Mikro Melalui Identitas Merek Dan Strategi Digital Marketing Pada UMKM Nasi Bakar Di Kelurahan Kepanjen Kidul Kota Blitar." 2(2).
Ibnu Waqfin, Mohammad Saat, Moch Komari, Rindi Andriani, and Anton Muhibuddin. 2021. "Strategi Branding Untuk Membangun Identitas Brand Dalam Meningkatkan Pemasaran Di Desa Bandarkedungmulyo Jombang." Jumat Ekonomi: Jurnal Pengabdian Masyarakat 2(1):1–5.
Lestari, Sri, Rosalin Samihardjo, and R. A. E. Virgana Targa Sapanji. 2023. "Pelatihan Brand Identity Untuk UMKM : Meningkatkan Kesadaran Merek Dan Daya Saing Di Era Digital." 6(2):490–99.
Listya, Ariefika, and Yayah Rukiah. 2018. "Visual Branding Produk Belimbing Olahan Umkm Depok Melalui Desain Logo." Desain Komunikasi Visual, Manajemen Desain Dan Periklanan (Demandia) 3(02):199. doi: 10.25124/demandia.v3i02.1548.
Muntazori, Ahmad Faiz, Ariefika Listya, and Muhammad Iqbal Qeis. 2019. "Branding Produk UMKM Pempek Gersang." Jurnal Desain 6(03):177. doi: 10.30998/jd.v6i3.4252.
Natari, Sari Usih, and Sam'un Jaja Raharja. 2022. "E-Desain Sebagai Strategi Pemasaran Digital Bagi Badan Usaha Milik Desa (Bumdes) Dan Pelaku Usaha Mikro Kecil Menengah (Umkm) Kabupaten Pangandaran." Kumawula: Jurnal Pengabdian Kepada Masyarakat 5(3):621. doi: 10.24198/kumawula.v5i3.38614.
Rizaq, Moh Cholisatur, and Fauzia Nur Alisha. 2021. "Perancangan Brand Identity UMKM Sekar Mulya Sebagai Media Pengenalan Identitas Dan Citra Produk." 6:127–42.
Surya Negara, Muhammad Iqbal, Anisa Fajriati, Diandra Dewa Atmaja, Ahdika Sidqi Ali Fauzilah Iyas, Teti Alfiyah, Riza Afniasari, Luckyta Kusuma Janata, Muhammad Miftah Pratama, Putri Swastika, and Fatiatun. 2022. "STRATEGI PENINGKATAN BRANDING PRODUK YOGHURT Sebagai Upaya Pengembangan UMKM Di Desa Kapencar Kertek Wonosobo." Martabe: Jurnal Pengabdian Kepada Msyarakat 5(5):1674.
Tjahjawulan, Indah. 2022. "Branding UKM Untuk Meningkatkan Nilai Produk: Hasil Kolaborasi Dengan Aliansi Kuliner Indonesia Dan Selow Food." Jurnal PkM Pengabdian Kepada Masyarakat 5(3):339. doi: 10.30998/jurnalpkm.v5i3.12958.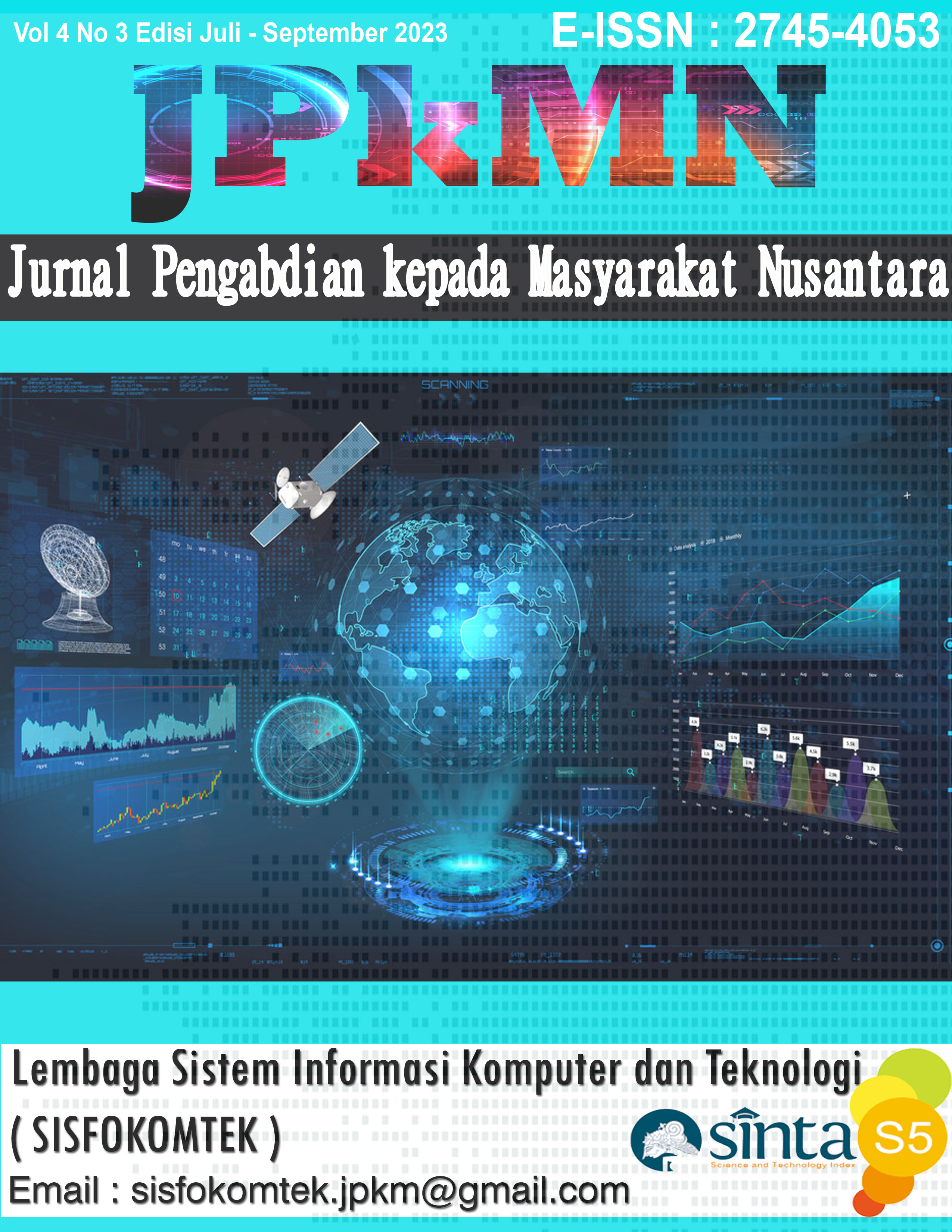 Downloads
How to Cite
Oktavianingrum, A., Nur Hidayati, D. ., & Rining Nawangsari, E. (2023). Strategi branding membangun Brand Identity pada UMKM. Jurnal Pengabdian Kepada Masyarakat Nusantara, 4(3), 1829-1836. https://doi.org/10.55338/jpkmn.v4i3.1213
License
Copyright (c) 2023 Ayu Oktavianingrum, Dwi Nur Hidayati, Ertien Rining Nawangsari
This work is licensed under a Creative Commons Attribution-ShareAlike 4.0 International License.