Pelatihan Pajak Dalam Upaya Peningkatan Pemahaman Praktik PPN Untuk Koperasi Bagi Anggota INKOPAD
Keywords:
Inkopad, Koperasi, Pajak Pertambahan Nilai, Pengabdian Kepada Masyarakat
Abstract
Cooperatives function and have a role in building and increasing the business potential and capabilities of members and the community. However, in reality the management of cooperatives in Indonesia is still not optimal, this is partly due to the lack of knowledge of cooperative partners on tax regulations and cooperative tax administration, as well as the large number of cooperative management who are incompetent and lack socialization regarding tax regulations. Failure to comply with tax obligations will certainly result in fines and administrative sanctions which should be avoided by each agency. Therefore, in an effort to increase understanding of tax practices within cooperatives, it is necessary to have competency-based training activities for cooperative members. The Faculty of Economics and Business (FEB) of Trisakti University in collaboration with the Indonesian Army Cooperative Main (INKOPAD) makes this happen in the form of training activities for the community. This training aims to increase understanding and competence in the practice of Value Added Tax (VAT) in cooperative activities. The method of counseling and training activities is used as a solution to the problems of existing partners. After this training, cooperative members' understanding of VAT practices in cooperative activities has increased.
Downloads
Download data is not yet available.
References
Ariani, P. D. (2017). Perhitungan Dan Prosedur PPh Pasal 4 Ayat 2 Pada Primer Koperasi Pegawai Pos (PRIMKOPPOS). (2015). Jurnal Akuntansi Profesi, 8(1), 16–21. https://doi.org/10.23887/jap.v8i1.21017
Dewi, Putri Istiana., Santika Bella, Indah Febrianti, Cinda Fitria Syafrilda. (2022). Pengenalan Pajak Pertambahan Nilai Pada Remaja Di Yayasan Yatim Al-Abqo Amanah. Garda-Jurnal Pengabdian Kepada Masyarakat Vol. 2 No. 2.
Freddy, D., Hidayat, R. T., & Syafitri, T. M. (2022). Sosialisasi dan Pelatihan Dalam Upaya Meningkatkan Pemahaman Tentang Aspek Perpajakan dan Pengisian SPT Tahunan Pada Koperasi Di Wilayah Kota Bekasi. Jurnal Pengabdian Masyarakat TRI PAMAS, 4(1), 17–28. https://ejurnal.stietribhakti.ac.id/index.php/TRIPAMAS/article/view/159
Hati, R. K. (2016). Penerapan Pajak Bunga Deposito Pada Koperasi Simpan Pinjam Nasari Cabang Manado. Jurnal Emba, 4(1), 67–76.
Lestari, H., Laekkeng, M., & Nurwanah, A. (2021). Implementasi Aspek Perpajakan Pada Koperasi Di Kabupaten Jeneponto. Amnesty: Jurnal Riset Perpajakan, 4(1), 56–76. https://doi.org/10.26618/jrp.v4i1.5307
Maghriby, B., Ramdani, D., & Triharjono, S. (2017). Pelatihan dan Konsultasi Perpajakan di Lingkungan Sekolah Tinggi Ilmu Ekonomi (STIE) Ekuitas Bandung. Jurnal Dharma Bhakti Ekuitas, 1(2), 14-17
Mintarti, S.U., Ghozali, D.R., Munir, S., & Satrio, Y.D. (2020). Pemberdayaan UMKM Gerabah Melalui Pembentukan Komunitas Pra-Koperasi Di Kabupaten Probolinggo. Dinamisia, 4(1), 26-35. https://doi.org/10.31849/dinamisia.v4i1.3235
Undang-undang No. 25 Tahun 1992 tentang Perkoperasian Indonesia, Jakarta.
Undang-Undang Nomor 17 Tahun 2000 tentang Pajak Penghasilan. Jakarta: Salemba Empat.
Tarmidi, Deden., Garin Pratiwi Solihati., Adelina Suryati., Pratiwi Nila Sari. (2021). Sosialisasi & Pelatihan Penghitungan & Penyetoran Pajak UMKM. DINAMISIA: Jurnal Pengabdian Kepada Masyarakat Vol. 5, No. 3 Juni 2021, DOI: https://doi.org/10.31849/dinamisia.v5i3.4109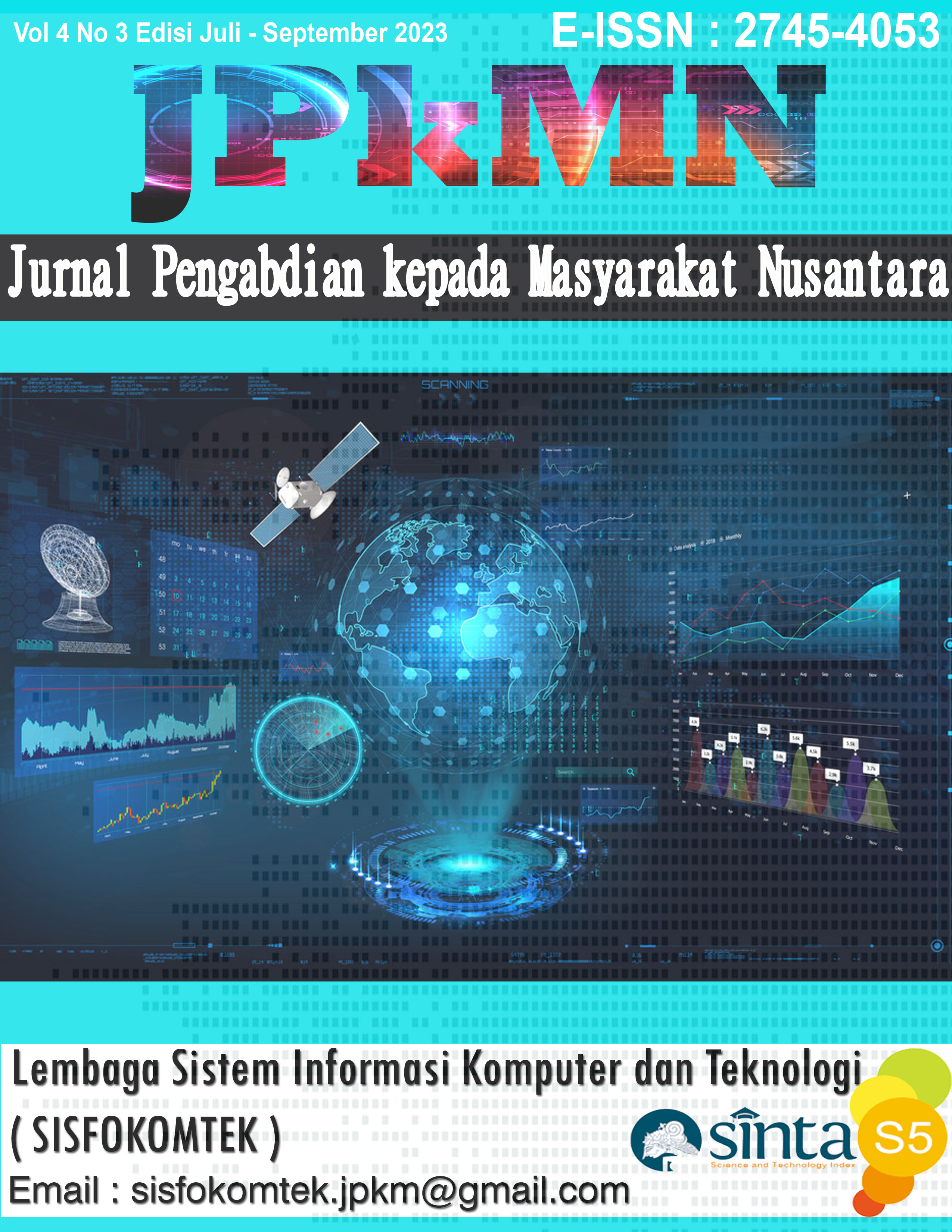 Downloads
How to Cite
Herawaty, V. ., Daeli, F. ., Aulia Oktaviani, A. ., & Nasyrah Noor, I. . (2023). Pelatihan Pajak Dalam Upaya Peningkatan Pemahaman Praktik PPN Untuk Koperasi Bagi Anggota INKOPAD . Jurnal Pengabdian Kepada Masyarakat Nusantara, 4(3), 2338-2343. https://doi.org/10.55338/jpkmn.v4i3.1243
License
Copyright (c) 2023 Vinola Herawaty, Florus Daeli, Ayu Aulia Oktaviani, Ice Nasyrah Noor
This work is licensed under a Creative Commons Attribution-ShareAlike 4.0 International License.
Most read articles by the same author(s)