Kembangkan Ekonomi Kreatif Serbuk Jamu UMKM Jamu Mbak Sri Desa Banjaragung, Kabupaten Jombang
Keywords:
UMKM, ASAM JAWA, KUNIR, SERBUK, JAMU
Abstract
Jamu is one of the traditional drinks whose existence is still easy to find today. There are various spices whose existence can be used as the main ingredient in making traditioal herbal drinks. Utilizing herbal drink into powder is a solution, so that the storage of herbal medicine is a litte longer and marketing is wider. The innovation of making tamarindand tumeric hers was carried out oer a period of approximately 2 months which was located in Banjaragung. Expanding the reach for consumers is also a consideration for making herbal powder as research conducted by KKN-T 02 UPN "Veteran" Jawa Timur. This study aims to examine further the process of making tamarind turmeric powder.
Downloads
Download data is not yet available.
References
A'yunin, N. A. Q., Santoso, U., & Harmayani, E. (2019). KAJIAN KUALITAS DAN AKTIVITAS ANTIOKSIDAN BERBAGAI FORMULA MINUMAN JAMU KUNYIT ASAM. Jurnal Teknologi Pertanian Andalas, Vol. 23(1), 37–48.
Hakim, L. (2015). REMPAH DAN HERBA KEBUN-PEKARANGAN RUMAH MASYARAKAT: Keragaman, Sumber Fitofarmaka, dan Wisata Kesehatan-Kebugaran.
Isnawati, D. L., & Sumarno. (2021). MINUMAN JAMU TRADISIONAL SEBAGAI KEARIFAN LOKAL MASYARAKAT DI KERAJAAN MAJAPAHIT PADA ABAD KE-14 MASEHI. E-Journal Pendidikan Sejarah, Vol. 11.
Kumalasari, E., Febrianti, D. R., & Musiam, S. (2021). PELATIHAN PEMBUATAN SERBUK JAHE INSTAN DAN KUNYIT ASAM DI DESA TATAH LAYAPDALAM RANGKA PENINGKATAN SISTEM IMUN DITENGAH PANDEMI. Jurnal Pengabdian Indonesia, Vol. 1.
Lavenia, C., Adam, A. R., Dyasti, J. A., & Febrianti, N. (2019). Tumbuhan Herbal dan Kandungan Senyawa pada Jamu sebagai Obat Tradisional di Desa Kayumas, Situbondo (Studi Ethnobotani). Jurnal KSM.
Pudiastutiningtyas, N., Mubin, N., S, L. I., & Kusumayanti, H. (2015). DIVERSIFIKASI KUNYIT (CURCUMA DOMESTICA) DAN KENCUR (KAEMPFERIA GALANGA L.) SEBAGAI MINUMAN HERBAL SERBUK SIAP SAJI. METANA, Vol. 11, 13–20.
Purwantisari, S., Jannah, S. N., Handayani, D., Yulianto, M. E., & Ardiansari, A. (2021). Produksi Serbuk Jamu Instan dengan Alat Kristalisasi di UMKM Kecamatan Ungaran Timur Kabupaten Semarang. Jurnal Pengabdian Kepada Masyarakat, 527–532.
Ridawati, & Alsuhendra. (2021). PELATIHAN PEMBUATAN MINUMAN SERBUK KUNYIT ASAM BAGI MASYARAKAT KELURAHAN BENDA BARU, KECAMATAN PAMULANG, TANGERANG SELATAN. Jurnal Pengabdian Kepada MasyarakatFakultasTeknik, Vol. 1, 71–85.
Sepriani, R., Eldawaty, Asnaldi, A., Wahyuri, A. S., & Kibadra. (2020). Producing Of Instant Powder Herbs Based On Medicinal Herbs (Toga: Tanaman Obat Keluarga) For Members Of Family Welfare Program In Tarantang Village, Lubuk Kilangan Sub-District, Padang. Journal Berkarya Pengabdian Kepada Masyarakat, Vol. 2.
Suseno, R., Surhaini, Rahmayani, I., Ulyarti, & Lavlinesia. (2021). Pelatihan Pembuatan Sirup dan Minuman Serbuk Kunyit Asam di Desa Suka Maju Muaro Jambi. Jurnal Karya Abdi, Vol. 5.
Yulianto, S. (2016). PENGETAHUAN MASYARAKAT TENTANG ASAM JAWA UNTUK MENYEMBUHKAN BATUK. Jurnal Kebidanan Dan Kesehatan Tradisional, Vol. 1.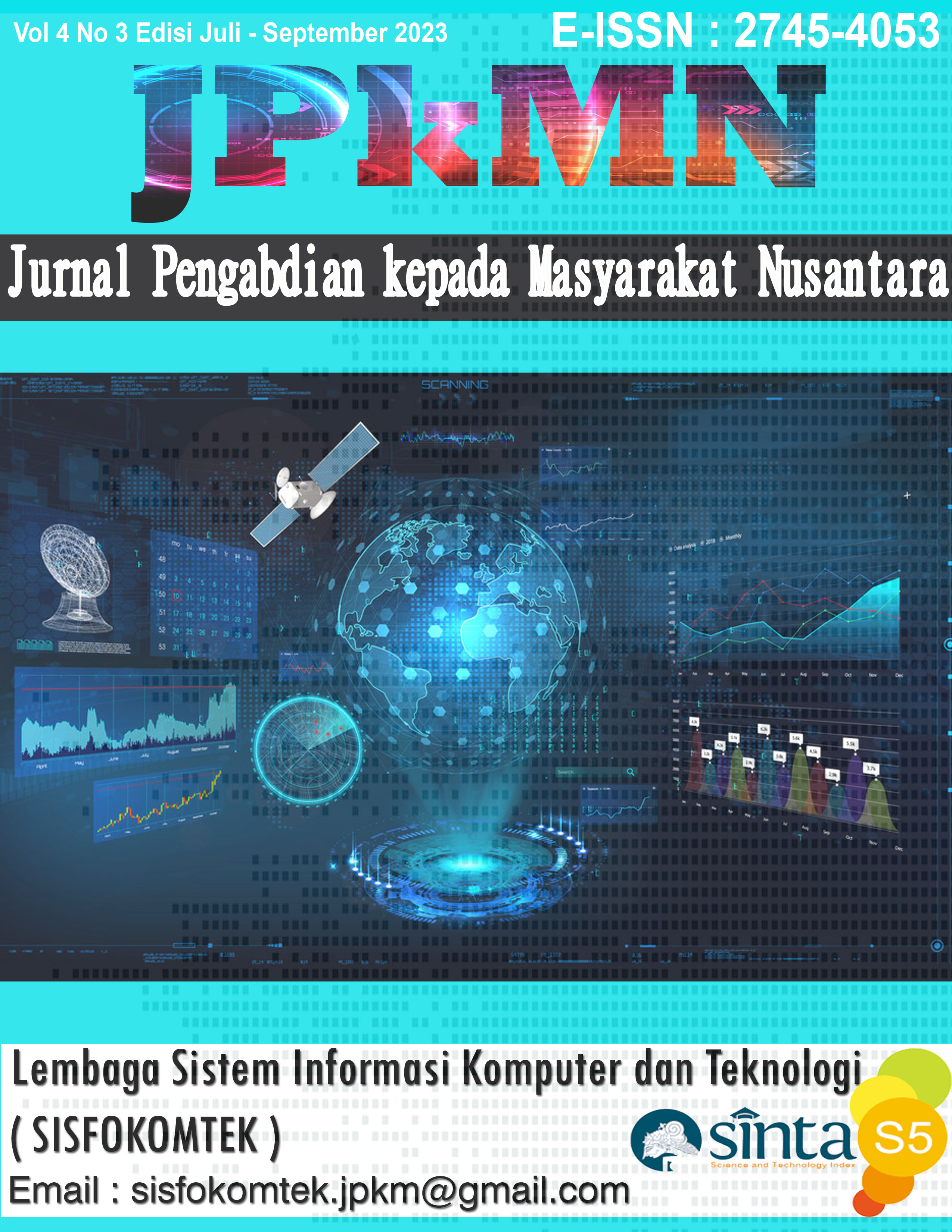 Downloads
How to Cite
Baity Zuraj, A. ., Sishadiyati, S., & Priana Primandhana, W. . (2023). Kembangkan Ekonomi Kreatif Serbuk Jamu UMKM Jamu Mbak Sri Desa Banjaragung, Kabupaten Jombang. Jurnal Pengabdian Kepada Masyarakat Nusantara, 4(3), 1939-1945. https://doi.org/10.55338/jpkmn.v4i3.1247
License
Copyright (c) 2023 Assyifaul Baity Zuraj, Sishadiyati Sishadiyati, Wiwin Priana Primandhana
This work is licensed under a Creative Commons Attribution-ShareAlike 4.0 International License.
Most read articles by the same author(s)