S.Si., M.Si.
Penyuluhan Uji Kualitas Air Sumur Menggunakan Parameter Fisika di Desa Kertosari
Keywords:
kualitas air sumur
Abstract
Clean water used as a source of drinking water must meet eligibility criteria based on chemical, physical and biological parameters. Physical parameters such as pH, temperature, TDS, and EC are very easy to apply directly in the analysis of well water quality in community outreach activities in the village of Kertosari. This activity is important because water wells are found in almost every villager's house and are used as drinking water and for cooking. well water in Kertosari village has never been tested for water quality as good water for consumption. Counseling on testing the quality of residents' well water will provide information on the feasibility level as drinking water based on physical test parameters. Drinking water quality tests were carried out in 31 areas in Kertosari which were carried out by well owners. 5 of them have good drinking water quality standards based on physical parameters. This activity is very useful and becomes important information for residents with the percentage value of the results of filling out the questionnaire on the respondent's satisfaction variable is 96% and the speaker's ability to provide information is 93%. so this activity goes well.
Downloads
Download data is not yet available.
References
Permenkes No. 55/. 2023. Peraturan Menteri Kesehatan Republik Indonesia Nomor 2 Tahun 2023 Tentangperaturan Pelaksanaan Peraturan Pemerintah Nomor 66tahun 2014 Tentang Kesehatan Lingkungan.
Deddy Oke Marpaung, Manuel dan Djoko Marsono, Bowo. 2013. "Uji Kualitas Air Minum Isi Ulang Di Kecamatan Sukolilo Surabaya Ditinjau Dari Perilaku Dan Pemeliharaan Alat." Jurnal Teknik Pomits 2(2).
Fardiaz, Srikandi. 1992. Polusi Air & Udara. Yogyakarta: Kanisius.
Fendra Nicola, Puger, and Mukh Mintadi. 2015. "TDS (Total Dissolved Solid) DAN TSS (Total Suspended Solid) Dengan Kadar Fe 2+." Seminar Nasional Kimia 159–64.
Hamidah, Wanda, and Cintia Cindramawa. 2020. "Analisis Kadar PH, Total Dissolved Solid (TDS) Dan Mn Pada Air Sumur Gali Di Kabupaten Cirebon." Indonesian Journal Of Chemical Research 8–15. doi: 10.20885/ijcr.vol5.iss1.art2.
Lantapon, Hastita, Odi Roni Pinontoan, and Rahayu H. Akili. 2019. "Analisis Kualitas Air Sumur Berdasarkan Parameter Fisik Dan Derajat Keasaman (PH) Di Desa Moyongkota Kabupaten Bolaang Mongondow Timur." Jurnal KESMAS 8(7).
Meiliyadi, Lalu Ahmad Didik, and Amalia Syuzita. 2022. "Sosialisasi Tingkat Pencemaran Air Sumur Berdasarkan Parameter Fisika Di Desa Telagawaru." Jurnal Warta Desa (JWD) 4(1):27–33. doi: 10.29303/jwd.v4i1.173.
Mridul MMI, Huda ME, Khan M, Roy SK, Akter S, Kabir MM, and Mouna SSP. 2020. "Groundwater Quality and Vulnerability Assessment in Savar Dhaka Bangladesh." J Biol Environ Sci 17:1–9.
Oktavia, Susanti Ningrum. 2018. "Analisis Kualitas Badan Air Dan Kualitas Air Sumur Di Sekitar Pabrik Gula Rejo Agung Baru Kota Madiun." Jurnal Kesehatan Lingkungan 10(1):1–12.
Rohmawati, Yunita, and Kustomo. 2020. "Analisis Kualitas Air Pada Reservoir PDAM Kota Semarang Menggunakan Uji Parameter Fisika, Kimia, Dan Mikrobiologi, Serta Dikombinasikan Dengan Analisis Kemometri." Walisongo Journal of Chemistry 3(2):100. doi: 10.21580/wjc.v3i2.6603.
Slamet, Juli Soemira. 1994. Kesehatan Lingkungan. Cet. 8. Yogyakarta: Gadjah Mada University Press.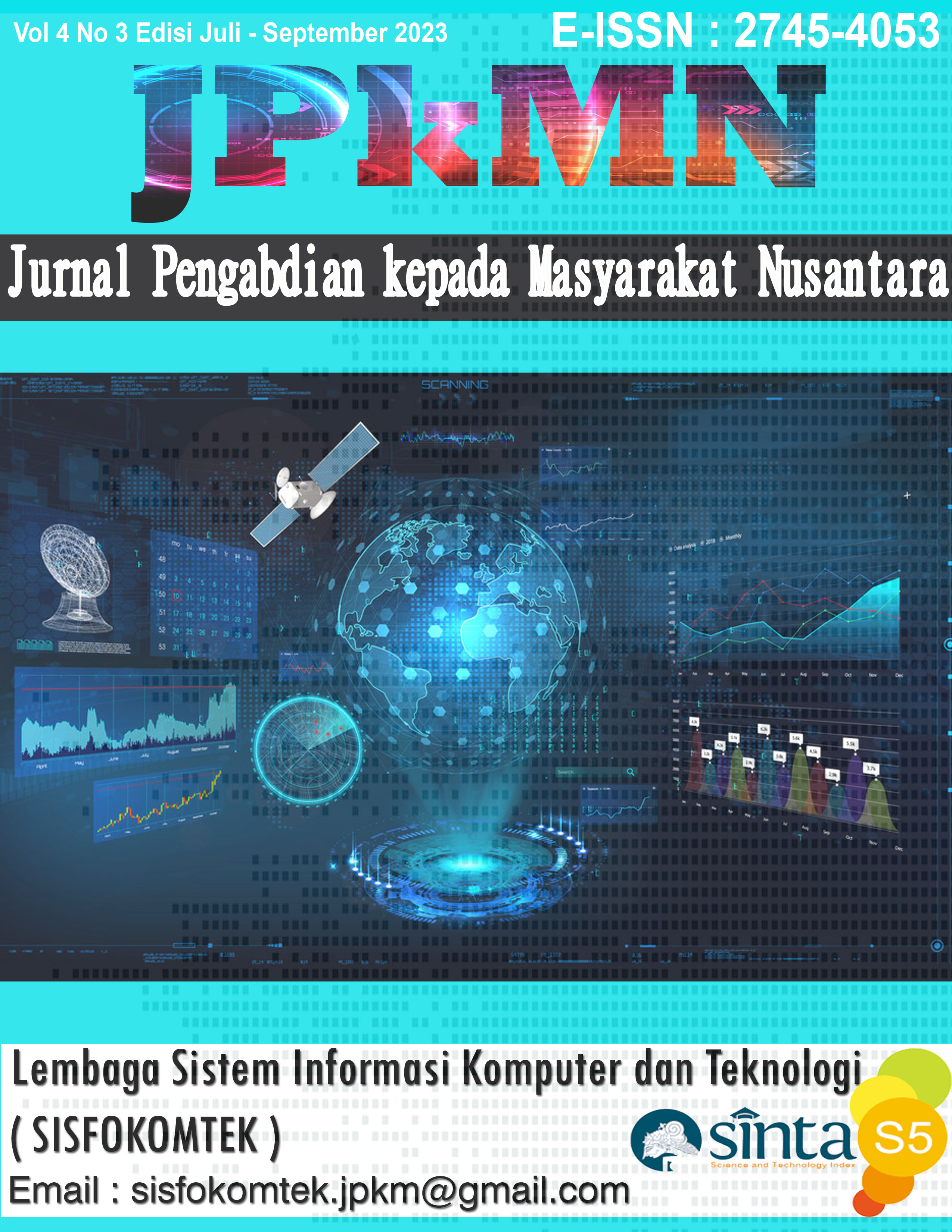 Downloads
How to Cite
lailatul qodri, udrika. (2023). S.Si., M.Si.: Penyuluhan Uji Kualitas Air Sumur Menggunakan Parameter Fisika di Desa Kertosari. Jurnal Pengabdian Kepada Masyarakat Nusantara, 4(3), 2197-2201. https://doi.org/10.55338/jpkmn.v4i3.1336
License
Copyright (c) 2023 udrika lailatul qodri
This work is licensed under a Creative Commons Attribution-ShareAlike 4.0 International License.