Kampanye Local Wisdom untuk Menangkal Hegemoni Asing bagi Gen-Z
Keywords:
kampanye, generasi Z, local wisdom, media sosial
Abstract
Generasi Z kini menghadapi tantangan indoktrinasi, intoleransi dan penyimpangan informasi yang marak terjadi melalui dunia maya. Generasi yang juga dikenal sebagai internet generation ini memiliki peluang besar untuk maju jika mampu memanfaatkan teknologi digital secara baik. Tapi, hegemoni asing yang masuk dari skema budaya-budaya asing melalui budaya asing, dapat berdampak pada memudarnya local wisdom. Hal ini menginisiasi tim pengabdian dalam menguatkan nilai cinta tanah air bagi para generasi Z melalui kampanye Local wisdom, untuk menangkal hegemoni asing. Local wisdom menjadi alat filter bagi para remaja Gen Z dalam membangun kegiatan positif dan masa depan terencana. Kegiatan melibatkan 30 peserta Gen-Z, yang dikoordinasi Forum Gen-Re Kota Surakarta, Divisi PSDM, yang diawali agenda FGD. Selanjutnya, mereka diajak melakukan kampanye local wisdom dengan embagikan sejumlah infografis bermuatan nilai positif local wisdom, diunggah di media sosial mereka. Konten local wisdom menjadi solusi guna mengedukasi para remaja untuk memiliki kegiatan positif seperti dengan mengenal nilai-nilai budaya lokal, meningkatkan rasa cinta tanah air da nasionalisme, sekaligus sebagai langkah menangkal potensi imbas negatif budaya asing.
Downloads
Download data is not yet available.
References
Affandy, Sulpi. 2017. "Penanaman Nilai-Nilai Kearifan Lokal Dalam Meningkatkan Perilaku Keberagamaan Peserta Didik." Atthulab: Islamic Religion Teaching and Learning Journal 2(2):192–207. doi: 10.15575/ath.v2i2.3391.
BPS. 2022. "Statistik Indonesia Dalam Infografis." BPS.
Dimock, M. 2019. Defning Generations: Where Millennials End and Generation Z Begins.
Dja'far, A. M., Taqwa, L., & Kholisoh, S. 2017. Intoleransi Dan Radikalisme Di Kalangan Perempuan: Riset Lima Wilayah Di Bogor, Depok, Solo Raya, Malang, Dan Sumenep. Jakarta: Wahid Foundation.
Elmore, T. 2014. "How Generation Z Differs from Generation Y." Retrieved March 15, 2021 (http://growingleaders.com/blog/generation-z-differs-generation-y/).
Haqqi, Halifa, and Soerya Soeparto. 2020. "Solo Cultural Festival as an Effort to Counter Cultural Hegemony." International Journal of Innovative Research and Development 9(10). doi: 10.24940/ijird/2020/v9/i10/OCT20056.
Lestari, D. 2019. "Dinamika Politik Identitas Di Indonesia." Jurnal Pendidikan Mandala 4(4):12–16.
Magu, Stephen. 2015. "Reconceptualizing Cultural Globalization: Connecting the 'Cultural Global' and the 'Cultural Local.'" Social Sciences, MDPI 4(3):1–16.
Njatrijani, Rinitami. 2018. "Kearifan Lokal Dalam Perspektif Budaya Kota Semarang Gema Keadilan Edisi Jurnal Gema Keadilan Edisi Jurnal." Gema Keadilan Edisi Jurnal 17 5(September):16–31.
Putri Yolanda, H., & Halim, U. 2020. "Partisipasi Politik OnlineOnline Generasi Z Pada Pemilihan Presiden Indonesia 2019." Journal of Strategic Communication 10(2):30–39.
Saifuddin. 2011. "Radikalisme Islam Di Kalangan Mahasiswa (Sebuah Metamorfosa Baru)." Jurnal Analisis 11(1):17–32.
Sugita, I. Wayan, Made Setini, and Yahya Anshori. 2021. "Counter Hegemony of Cultural Art Innovation against Art in Digital Media." Journal of Open Innovation: Technology, Market, and Complexity 7(2):147. doi: 10.3390/joitmc7020147.
Taum, Yoseph Yapi. 2015. Sastra Dan Politik. Yogyakarta: Sanata Dharma University Press.
Vosoughi, Soroush, Deb Roy, and Sinan Aral. 2018. "The Spread of True and False News Online." Science 35(9):1146–1151.
Waruwu, Dermawan, and I. Gede Mudana. 2018. "Counter-Hegemony in The Development of Bawomataluo Tourist Destination, Nias Selatan, Sumatera Utara." E-Journal of Cultural Studies 11(2):1–8. doi: 10.24843/cs.2018.v11.i02.p01.
Wulandari, Widya, Yayang Furi Furnamasari, and Dinie Anggraeni Dewi. 2021. "Urgensi Rasa Nasionalisme Pada Generasi Z Di Tengah Era Globalisasi." Jurnal Pendidikan Tambusai 5(3):7255–7260.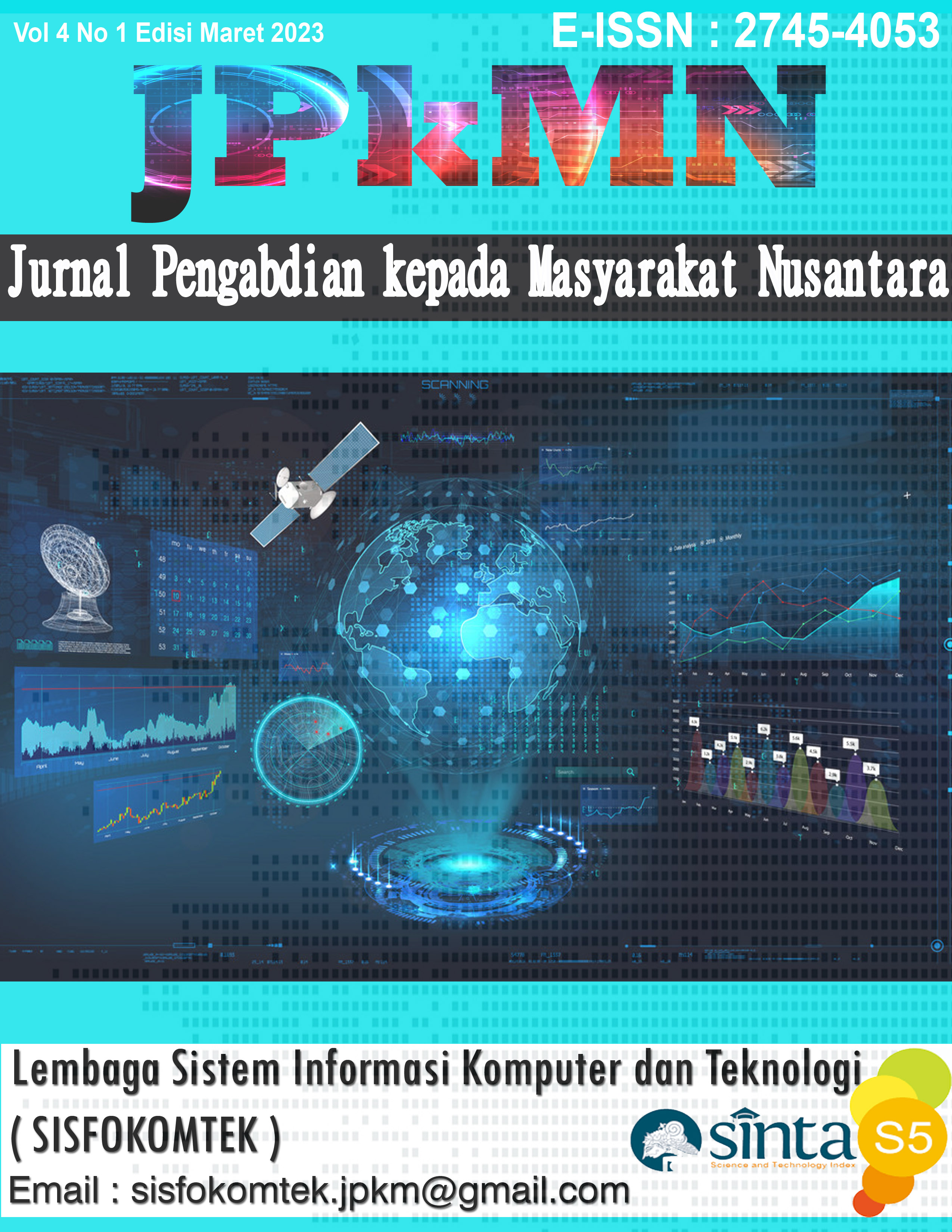 Downloads
How to Cite
Haqqi, H., & Wijayati, H. (2023). Kampanye Local Wisdom untuk Menangkal Hegemoni Asing bagi Gen-Z. Jurnal Pengabdian Kepada Masyarakat Nusantara, 4(1), 97-105. Retrieved from https://ejournal.sisfokomtek.org/index.php/jpkm/article/view/776
License
Copyright (c) 2023 Halifa Haqqi, Hasna
This work is licensed under a Creative Commons Attribution-ShareAlike 4.0 International License.