Sosialisasi Filtrasi Air Sederhana Sebagai Upaya Meningkatkan Sadar Sanitasi di SDN Lemahkembar
Keywords:
Filtrasi, Sanitasi, Sosialisasi
Abstract
Providing access to clean water and proper sanitation is important in ensuring good health and well-being for individuals and communities. SDN Weakkembar is an elementary school located in an area that does not yet have adequate access to clean water sources. Therefore, socialization about simple water filtration is an important step to increase sanitation awareness in this school. This socialization aims to explain the importance of clean water and good sanitation, as well as to introduce and socialize simple water filtration methods to students at SDN Lemahkembar. This simple water filtration method involves using inexpensive and readily available materials, such as sand, gravel, cotton wool, tissues, used bottles, and dacron to rid the water of impurities and contaminants. The socialization was carried out through a series of educational activities, including presentations, group discussions, and practical demonstrations on how to make and use a simple water filtration device. Apart from that, sanitation awareness campaigns were also carried out, which involved putting up posters, distributing brochures about the importance of personal and environmental hygiene. The results of this activity show that the socialization of simple water filtration has succeeded in increasing sanitation awareness at SDN Weakkembar. School students become more aware of the importance of using clean water and good sanitation to maintain their health. They are also skilled in building and using simple water filtration devices, which can help them gain access to safer, clean water. With this socialization, it is hoped that sanitation awareness at SDN Lemahkembar will continue to increase and become a habit that is maintained. This can have a positive impact on the health of students and school girls and encourage sustainable behavior changes related to sanitation in the surrounding community.
Downloads
Download data is not yet available.
References
Saputri, R. A., & Tumangger, J. (2019). Hulu-Hilir Penanggulangan Stunting Di Indonesia. Journal of Political Issues, 1(1), 1–9. https://doi.org/10.33019/jpi.v1i1.2
Kwami, C. S., Godfrey, S., Gavilan, H., Lakhanpaul, M., & Parikh, P. (2019). Water, sanitation, and hygiene: Linkages with stunting in rural Ethiopia. International Journal of Environmental Research and Public Health, 16(20). https://doi.org/10.3390/ijerph16203793
Amir, A., Tavita, G. E., Ashari, A. M., Alimuddin, A. H., & Apindiati, R. K. (2022). Sosialisasi Teknik penjernihan Air untuk keperluan Rumah Tangga di Daerah Desa Kapur. Journal of Community Engagement in Health, 5(1), 92–95. https://doi.org/10.30994/jceh.v5i1.345
Purwanti, E., Ramdani, D., Rahmadewi, R., Nugraha, B., Efelina, V., & Dampang, S. (2021). Sosoalisasi Manfaat Karbon Aktif Sebagai Media Filtrasi Air Guna Meningkatkan Kesadaran Akan Pentingnya Air Bersih di SMK PGRI Cikampek. Selaparang. Jurnal Pengabdian Masyarakat Berkemajuan, 4(2)
Utomo, P., Mu'awanah Sukmawati, A., & Masagala, A. A. (2022). Sosialisasi Peningkatan Akses Air Bersih Untuk Mendukung Program Sanitasi Sekolah di SD Negeri Lanteng Baru. Selaparang Jurnal Pengabdian Masyarakat Berkemajuan, 6(3)
Nisa, S. K., Lustiyati, E. D., & Fitriani, A. (2021). Sanitasi Penyediaan Air Bersih dengan Kejadian Stunting pada Balita. Jurnal Penelitian Dan Pengembangan Kesehatan Masyarakat Indonesia, 2(1), 17–25. https://doi.org/10.15294/jppkmi.v2i1.47243
Novia, A. A., Nadesya, A., Harliyanti, D. J., Ammar, M., & Arbaningrum, R. (2019). Alat Pengolahan Air Baku Sederhana Dengan Sistem Filtrasi. Widyakala, 6, 12-20
Sulianto, A. A., Aji, A. D. S., & Alkahi, M. F. (2020). Rancang Bangun Unit Filtrasi Air Tanah untuk Menurunkan Kekeruhan dan Kadar Mangan dengan Aliran Upflow. Jurnal Sumberdaya Alam Dan Lingkungan, 7(2), 72–80. https://doi.org/10.21776/ub.jsal.2020.007.02.4
Maliga, I., Hasifah, H., Antari, G. Y., Rafi'ah, R., & Lestari, A. (2022). Pengaruh Indeks Risiko Sanitasi Terhadap Kejadian Stunting di Kecamatan Moyo Utara. Jurnal Kesehatan Lingkungan Indonesia, 21(1), 50–58. https://doi.org/10.14710/jkli.21.1.50-58
Olo, A., Mediani, H, Z,. & Rakhmawati, W. (2021). Hubungan Faktor Air dan Sanitasi dengan Kejadian Stunting pada Balita di Indonesia. Jurnal Obesesi : Jurnal Pendidikan Anak Usia Dini, 5(2), 1113-1126. https://doi.org/10.31004/obsesi.v5i2.521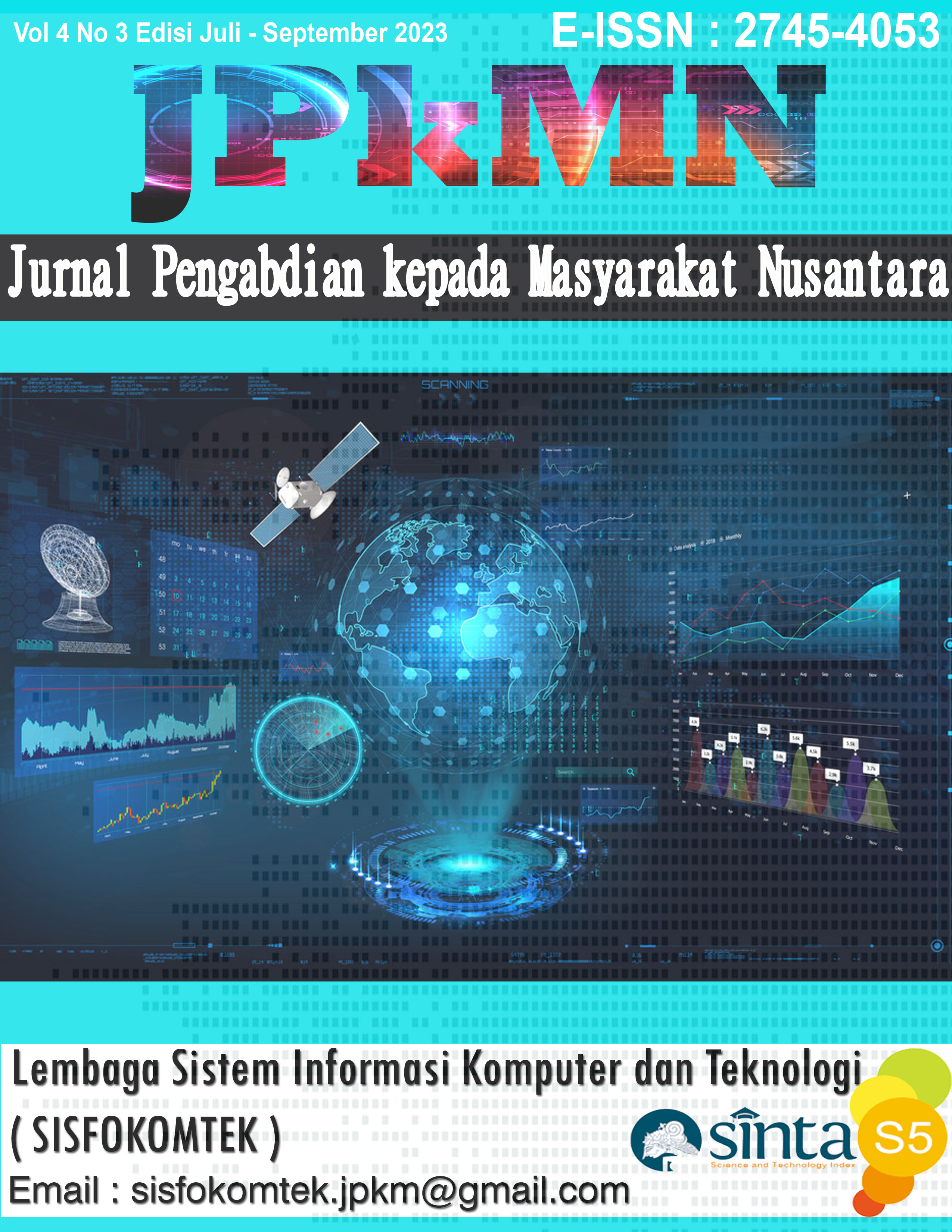 Downloads
How to Cite
Ristia Sari, A. ., Efendi, R. ., Ayu Puspita Dewi, D. ., & Priambodo, B. . (2023). Sosialisasi Filtrasi Air Sederhana Sebagai Upaya Meningkatkan Sadar Sanitasi di SDN Lemahkembar. Jurnal Pengabdian Kepada Masyarakat Nusantara, 4(3), 1801-1806. https://doi.org/10.55338/jpkmn.v4i3.1208
License
Copyright (c) 2023 Anggita Ristia Sari, Rahmat Efendi, Dhea Ayu Puspita Dewi, Bayu Priambodo
This work is licensed under a Creative Commons Attribution-ShareAlike 4.0 International License.