Perluasan Target Pasar UMKM Barongan dan Pengenalan Kerajinan Barong Khas Blitar Melalui Digital Marketing
Keywords:
Digital Marketing, Blitar, MSMEs, Barongan, Social Media
Abstract
The problem with the current target market for traditional handicrafts is that the younger generation in Indonesia, both in cities and in regions, are less interested in the surrounding culture, besides that the limited ability of craftsmen to take advantage of technological developments is also an obstacle in expanding the target market. So that this service is carried out with the aim of solving various problems faced by the UMKM Wisanggeni Art Gallery in expanding the market and introducing culture to the wider community. Preserving culture is also included in efforts to defend the country which may rarely be considered. Each region has various types of Barong, one of which is the typical Blitar City Barongan. The characteristics of the typical Blitar Barogan can be seen from the shape, color, and motifs which describe a personality that is firm and fierce but likes to joke or play and is often nicknamed "Ngucing". The raw material for making Barongan is large and heavy wood. The method for carrying out community service activities is divided into three stages, namely introduction, implementation, and evaluation. The purpose of this service is to expand the target market for Barongan UMKM through the implementation of a digital marketing system by creating an online shopping platform in the form of a Shopee sales application and several social media accounts such as Instagram and Tiktok as a medium for expanding product information, besides that the author also provides education about creating content that attracts buyers.
Downloads
Download data is not yet available.
References
-, Rani Arifah Normawati, Ike Wardani, Shanti, & Widayani, Anna. (2020). Pemanfaatan Digital Marketing sebagai Sarana Komersialisasi Produk Kampung Batik Kembang Turi Blitar. Dinamisia : Jurnal Pengabdian Kepada Masyarakat, 5(1), 253–261. https://doi.org/10.31849/dinamisia.v5i2.4157
Arini, Desti. (2020). Penyuluhan Dampak Positif dan Negatif Media Sosial Terhadap Kalangan Remaja Di Desa Way Heling Kecamatan Lengkiti Kabupaten Ogan Komering Ulu. Abdimas Universal, 2(1), 49–53. https://doi.org/10.36277/abdimasuniversal.v2i1.38
Jatinangor, Desa Cikeruh. (2023). 1 , 2 1,2. 2(1), 29–34.
Khoiroh, Kholifatun, & Kusumastuti, Eny. (2020). Eksistensi Kesenian Barongan Kusumojoyo Desa Gebang Kecamatan Bonang Kabupaten Demak. Jurnal Seni Tari, 9(1), 1.
Novitasari, Dewi. (2023). PERANCANGAN SISTEM DIGITAL MARKETING UMKM BARONGAN SEBAGAI UPAYA PERLUASAN TARGET Abstrak. 02.
Setyorini, Dini, Nurhayaty, Ety, & Rosmita, Rosmita. (2019). PENGARUH TRANSAKSI ONLINE (e-Commerce) TERHADAP PENINGKATAN LABA UMKM (Studi Kasus UMKM Pengolahan Besi Ciampea Bogor Jawa Barat). Jurnal Mitra Manajemen, 3(5), 501–509. https://doi.org/10.52160/ejmm.v3i5.228
Wardhana, Aditya. (2022). Strategi Digital Marketing. In Strategi Digital Marketing. Retrieved from https://www.researchgate.net/publication/359467934_Strategi_Digital_Marketing
Wardhani, Anindya Khrisna, & Romas, Arina Nuraliza. (2022). Analysis of Digital Marketing Strategies in the Covid-19 Pandemic. EXERO : Journal of Research in Business and Economics, 4(1), 29–53. https://doi.org/10.24071/exero.v4i1.5025
Wibowo, Dimas Hendika, Arifin, Zainul, & Sunarti. (2015). ANALISIS STRATEGI PEMASARAN UNTUK MENINGKATKAN DAYA SAING UMKM (Studi pada Batik Diajeng Solo). Jurnal Administrasi Bisnis (JAB), 29(1), 59–66. Retrieved from www.depkop.go.id
Yacub, Rudi, & Mustajab, Wahyu. (2020). Analisis Pengaruh Pemasaran Digital (Digital Marketing) Terhadap Brand Awareness Pada E-Commerce. Jurnal MANAJERIAL, 19(2), 198–209. https://doi.org/10.17509/manajerial.v19i2.24275
Yulianto, Rahmat Endri. (2021). Perancangan Pusat Kreativitas Seni Kota Blitar Dengan Pendekatan Extending Tradition.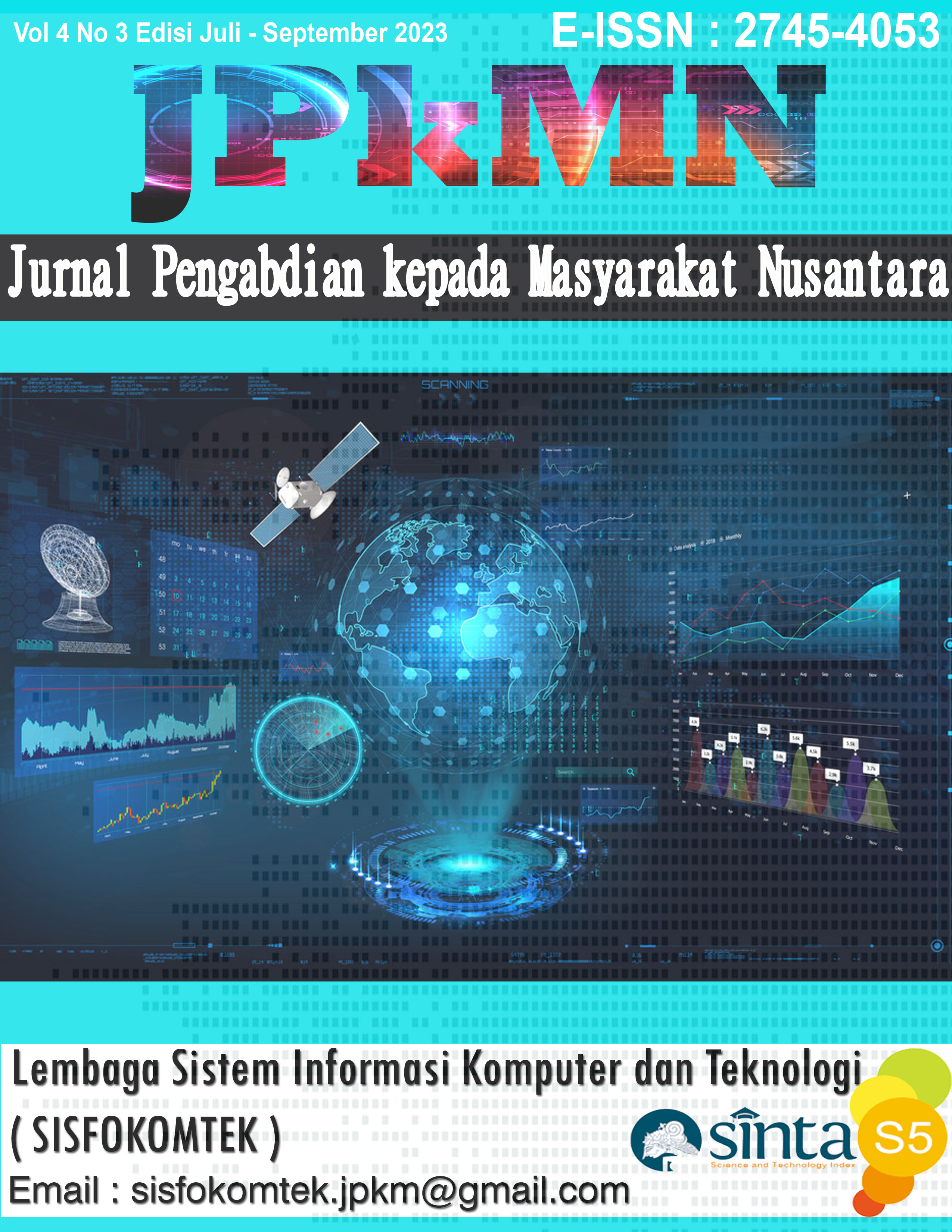 Downloads
How to Cite
Andriana, Y. ., Imaningsih, N., & Fadil, C. . (2023). Perluasan Target Pasar UMKM Barongan dan Pengenalan Kerajinan Barong Khas Blitar Melalui Digital Marketing. Jurnal Pengabdian Kepada Masyarakat Nusantara, 4(3), 1908-1915. https://doi.org/10.55338/jpkmn.v4i3.1233
License
Copyright (c) 2023 Yeyen Andriana, Niniek Imaningsih, Cholid Fadil
This work is licensed under a Creative Commons Attribution-ShareAlike 4.0 International License.
Most read articles by the same author(s)