SOSIALISASI PENGGUNAAN GADGET TERHADAP ANAK-ANAK USIA DINI DI PANTI ASUHAN PELITA HARAPAN
Abstract
Gadgets are very important for human life to communicate, increase relationships, business, add insight, knowledge, and education. On the other side, the opposite occurs due to the negligence of the wearer or the inaccuracy in utilizing the actual function. So many bad or negative effects that arise in the use of gadgets, especially for early children. The purpose of community service is: 1) providing information about technological developments and understanding of the impact of using gadgets, 2) providing information about prevention so that children do not become dependent on gadgets. This community service activity was held in Pelita Harapan Orphanage, Cangkir street number 21a, Sei Putih Tengah, Medan Petisah Subdistrict, Medan. The main methodology in this research is to use the method of socialization approach that is lecture, dialogue, discussion and games. The results in discussions with Pelita Harapan Orphanage consisted of: 1) the adverse effects of using gadgets on early children, 2) how to prevent early children from becoming addicted to gadgets, 3) how to deal with early children who were addicted to gadgets.
Downloads
Download data is not yet available.
References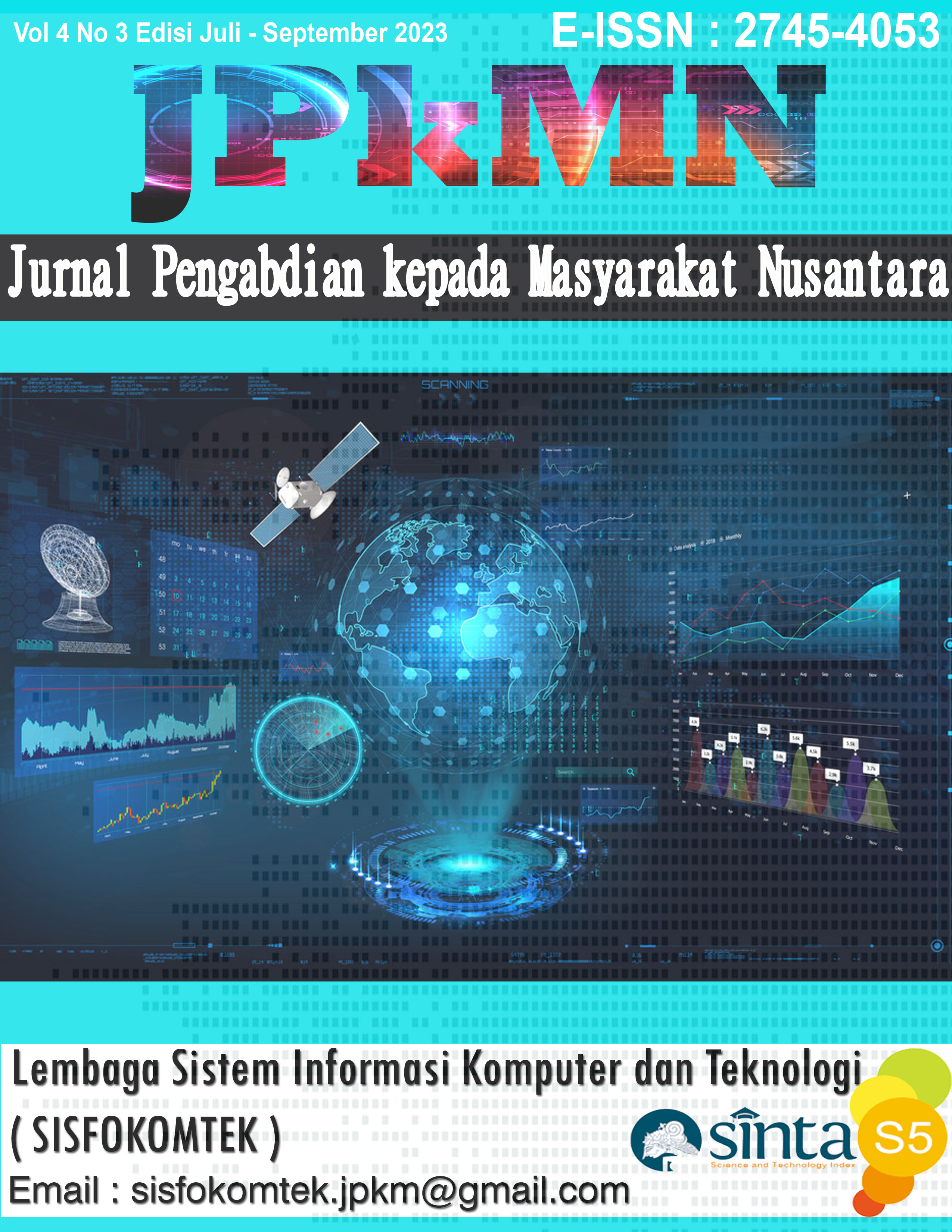 Downloads
How to Cite
Tina, A., Alamsyah Harahap, R. ., Katharina, N. ., Natalia Pasaribu, L. ., Endah Dilosa Ginting, K. ., & Amir, A. . (2023). SOSIALISASI PENGGUNAAN GADGET TERHADAP ANAK-ANAK USIA DINI DI PANTI ASUHAN PELITA HARAPAN. Jurnal Pengabdian Kepada Masyarakat Nusantara, 4(3), 2078-2080. https://doi.org/10.55338/jpkmn.v4i3.1329
License
Copyright (c) 2023 Agus Tina, Rahmat Alamsyah Harahap, Ninta Katharina, Lidya Natalia Pasaribu, Kristi Endah Dilosa Ginting, Afriza Amir
This work is licensed under a Creative Commons Attribution-ShareAlike 4.0 International License.