Risiko Pernikahan Dini dan Konvergensi Pencegahan Stunting Pada Remaja di Desa Karampi Kecamatan Langgudu Kabupaten Bima
Keywords:
Konvergensi Stunting, Pengabdian Masyarakat, Pernikahan Dini, Pencegahan, Stunting
Abstract
The issue of early marriage and stunting is currently a national issue because it is related to the quality of human resources in the future, so there is a need for handling and prevention efforts. The purpose of this community service activity is to prevent early marriage and convergence to prevent stunting in adolescents. Socialization and counseling on the risks of early marriage and convergence for stunting prevention were carried out in Karampi Village, Langgudu District, Bima Regency, West Nusa Tenggara Province. The community service program process is carried out consisting of 3 stages which include the data collection stage, the socialization and education stage, as well as the reflection and evaluation stage. The community service sample includes 63.46% female participants and 36.53% male participants. Data analysis used a paired sample t test to determine the level of public understanding before (pretest) and after (posttest) socialization and counseling. The results of community service show that the level of understanding after outreach and counseling on the risks of early marriage is around 85.96% and the convergence for stunting prevention is around 89.81%.
Downloads
Download data is not yet available.
References
Duana, Maiza, Siti Maisyaroh, Fitri Siregar, Sufyan Anwar, Jun Musnadi, Arfah Husna, and Lili Eky. 2022. "Dampak Pernikahan Dini Pada Generasi Z Dalam Pencegahan Stunting." 3(2):195–200.
Endrekson, Romsa, and Reka Gusti. 2021. "Pelatihan Konvergensi Stunting Untuk Kader Posyandu Balita Di Desa Karya Mulia Kec . Rambang Kapak Tengah Kota Prabumulih Stunting Convergence Training for Toddler Posyandu Cadres in Karya Mulia Village , Kec . Middle Ax Mine Prabumulih City Menurut Direk." 2:97–101.
Juanamasta, I. G., Y. Aungsuroch, M. L. Fisher, J. Gunawan, and A. S. Iblasi. 2023. "An Integrative Review of Indonesia's Quality of Care." International Journal of Public Health Science 12(2):606–13. doi: 10.11591/ijphs.v12i2.21767.
Maptukhah, Aat, and Nur Anita. 2023. "Efektivitas Edukasi Melalui Media Leaflet Terhadap Peningkatan Pengetahuan Remaja Putri Tentang Risiko Pernikahan Dini." Jurnal Ilmiah Universitas Batanghari Jambi 23(1):637. doi: 10.33087/jiubj.v23i1.3283.
Masyarakat, Jurnal Pengabdian. 2022. "Jurnal Pengabdian Masyarakat Http://Jurnal.Anfa.Co.Id/Index.Php/Musyawarah/ Bulan,4Tahun 2022 Vol 1 , No1 ." 1.
Mboeik, Sarah Lery, Theresia Sri Lendes, and Sherly Hayer. 2018. "CONVERGENCE ACTION ASSISTANCEACCELERATING......, Intje Picauly et All......" 2234:44–56.
Oktavia, Eka Radiyani, Fatehah Rahma Agustin, Nandito Mapian Magai, and Widya Hary Cahyati. 2018. "Pengetahuan Risiko Pernikahan Dini Pada Remaja Umur 13-19 Tahun." HIGEIA (Journal of Public Health Research and Development) 2(2):239–48. doi: 10.15294/higeia.v2i2.23031.
Purnomo, Agus, Retno Puji Hastuti, and Siti Julaiha. 2023. "Pendampingan Keluarga Balita Stunting Sebagai Upaya Pencegahan Dan Penanganan Stunting Di Desa Sri Mulya Jaya Kecamatan Seputih Surabaya Kabupaten Lampung Tengah." 2(2):17–22.
Ramadhan, Kadar, Fransisca Noya, Aminuddin Aminuddin, and Setiawan Setiawan. 2021. "Assistance of Human Development Cadres in Making Proposals for Convergence Prevention of Stunting Activities." Community Empowerment 6(5):707–12. doi: 10.31603/ce.4558.
Rosha, Bunga Ch, Dwi Sisca, Kumala Putri, Indri Yunita, and Surya Putri. 2013. "DETERMINAN STATUS GIZI PENDEK ANAK BALITA DENGAN RIWAYAT BERAT BADAN LAHIR RENDAH ( BBLR ) DI INDONESIA ( ANALISIS DATA RISKESDAS 2007-2010 ) Determinants of Stunting in Under Five Children with Low Birth Weight History in Indonesia ( Riskesdas Data Analy." Jurnal Ekologi Kesehatan 12(3):195–205.
Sarman, and Darmin. 2021. "Hubungan ASI Eksklusif Dan Paritas Dengan Kejadian Stunting Pada Anak Usia 6-12 Bulan Di Kota Kotamobagu : Studi Retrospektif." Gema Wiralodra 12(2):206–16.
Syamsuadi, Amir, Yulia Febrianita, Ade Febriani, Fakultas Psikosospol, Universitas Abdurrab, Universitas Abdurrab, and Universitas Abdurrab. 2023. "THE INFLUENCE OF STUNTING REDUCTION PROGRAM PERFORMANCE ON THE GROWTH OF UNDER-FREE CHILDREN IN ROKAN HULU DISTRICT PENGARUH KINERJA PELAKSANAAN PROGRAM PENURUNAN STUNTING TERHADAP TUMBUH KEMBANG ANAK BALITA DI." 1(2):27–38.
Vinet, Luc, and Alexei Zhedanov. 2011. "A 'missing' Family of Classical Orthogonal Polynomials." Journal of Physics A: Mathematical and Theoretical 44(8):9–25. doi: 10.1088/1751-8113/44/8/085201.
Waroh, Yuni Khoirul. 2019. "Pemberian Makanan Tambahan Sebagai Upaya Penanganan Stunting Pada Balita Di Indonesia." Embrio 11(1):47–54. doi: 10.36456/embrio.vol11.no1.a1852.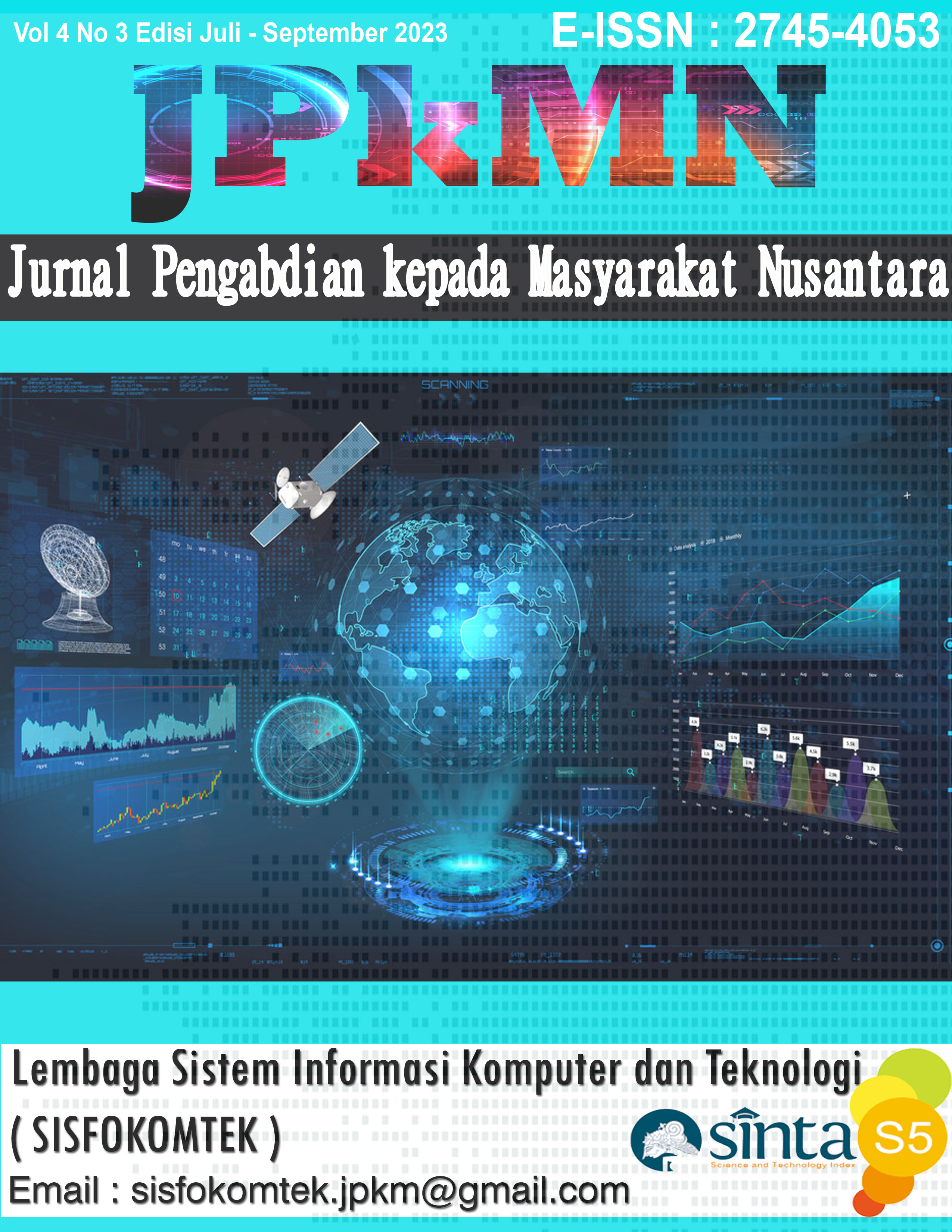 Downloads
How to Cite
darmin, darmin ., Walliyudin, W., Gufran, G., Alkhair, A., Noris, M., Iksan, M., Zara Avila, D., Husnul Khatimah, N., & Fitrah, M. (2023). Risiko Pernikahan Dini dan Konvergensi Pencegahan Stunting Pada Remaja di Desa Karampi Kecamatan Langgudu Kabupaten Bima. Jurnal Pengabdian Kepada Masyarakat Nusantara, 4(3), 2395-2400. https://doi.org/10.55338/jpkmn.v4i3.1434
License
Copyright (c) 2023 darmin darmin, Walliyudin Walliyudin, Gufran Gufran, Alkhair Alkhair, M. Noris, Muammar Iksan, Dea Zara Avila, Nur Husnul Khatimah, Muh. Fitrah
This work is licensed under a Creative Commons Attribution-ShareAlike 4.0 International License.
Most read articles by the same author(s)
Darmin Darmin, Fachry Rumaf, Moh Rizki Fauzan, Suci Rahayu Ningsih, Trinurjana Husain, Faramita Mamonto, Sosialisasi Pelaksanaan Sekolah Sehat , Jurnal Pengabdian kepada Masyarakat Nusantara: Vol. 3 No. 2.2 (2023): Jurnal Pengabdian kepada Masyarakat Nusantara
walliyudin walliyudin, Darmin Darmin, Gufran Gufran, Muh. Fitrah, M. Noris, Edukasi Anti-Narkoba dan Penyuluhan Hukum Bagi Siswa dan Remaja di Desa Kerampi Kecamatan Langgudu Kabupaten Bima , Jurnal Pengabdian kepada Masyarakat Nusantara: Vol. 4 No. 3 (2023): Jurnal Pengabdian kepada Masyarakat Nusantara (JPkMN)