Membangun Kesadaran Siswi tentang Pelecehan Seksual di Media Sosial
Keywords:
Pelecehan Seksual di Media Sosial
Abstract
Technological advances have led to an increase in the need for information and communication flows, as currently developing smartphones. Social media is an application that can connect one individual to another using the internet. The use of the internet has both positive and negative impacts, one of the negative impacts is the ease with which acts of sexual harassment occur. The average victim is a woman. Based on data in Karanganyar Regency for 2021, it is known that there are still cases of sexual harassment of female victims. This service activity was carried out at Muhammadiyah Darul Arqom Karanganyar High School for male and female students of class X by providing material about sexual fading on social media. The purpose of this community service activity is to build students' self-awareness about sexual harassment on social media, such as forms of social media sexual harassment, its causes, and how to prevent it.
Downloads
Download data is not yet available.
References
Fauzi, A. A., Kom, S., Kom, M., Budi Harto, S. E., Mm, P. I. A., Mulyanto, M. E., ... & Rindi Wulandari, S. (2023). Pemanfaatan Teknologi Informasi di Berbagai Sektor Pada Masa Society 5.0. PT. Sonpedia Publishing Indonesia.
Fitriani, Y. (2021). Pemanfaatan media sosial sebagai media penyajian konten edukasi atau pembelajaran digital. JISAMAR (Journal of Information System, Applied, Management, Accounting and Research), 5(4), 1006-1013.
Ikhwantoro, D., & Sambas, N. (2019). Faktor Penyebab Terjadinya Kejahatan Pelecehan Seksual terhadap Perempuan Dewasa yang Terjadi di Kota Bandung di Tinjau Secara Kriminologis (Studi Kasus Penanganan Kejahatan Pelecehan Seksual terhadap Perempuan Dewasa di P2TP2A Kota Bandung).
Khairunnisa, S., & Aziz, T. A. (2021). Studi literatur: digitalisasi dunia pendidikan dengan menggunakan teknologi augmented reality pada pembelajaran matematika. Jurnal Riset Pendidikan Matematika Jakarta, 3(2), 53-62.
Niyu, N., & Gerungan, A. (2022). Literasi Digital: Mengenal Cyber Risk dan Aman Dalam Bermedia Digital. Prosiding Konferensi Nasional Pengabdian Kepada Masyarakat dan Corporate Social Responsibility (PKM-CSR), 5, 1-10.
Perempuan, K., & Tahunan, C. (2020). Komnas Perempuan. Retrieved from komnasperempuan. go. id: https://www. komnasperempuan. go. id/read-news-menemukenalikekerasan-dalam-rumah-tanggakdrt.
Purbohastuti, A. W. (2017). Efektivitas media sosial sebagai media promosi. Tirtayasa Ekonomika, 12(2), 212-231.
Sugiyono, D. (2010). Memahami penelitian kualitatif.
Suprihatin, S., & Azis, A. M. (2020). Pelecehan Seksual Pada Jurnalis Perempuan di Indonesia. PALASTREN: Jurnal Studi Gender, 13(2), 413-434.Wibowo, M. P. Jenis dan Korelasi Korban Dengan Pelaku Pada Kejahatan Pelecehan Seksual Di Instagram. RECIDIVE, 10(2), 142-148.
Zarkasih, I. R., & Nugroho, C. (2019). Pelecehan Seksual Di Media Sosial (Studi Kasus Tentang Korban Pelecehan Seksual Di Instagram). eProceedings of Management, 6(2).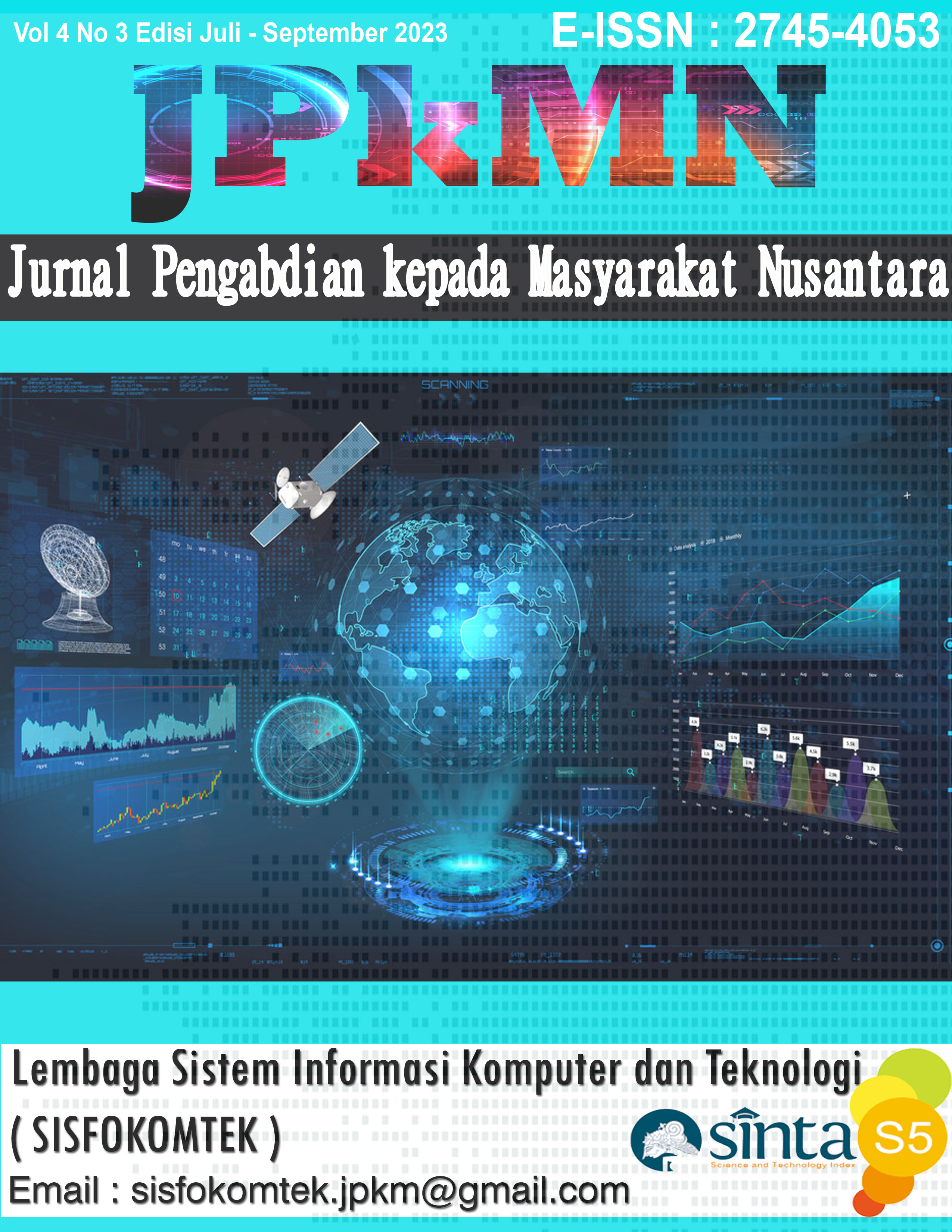 Downloads
How to Cite
Bayu Sinta, T., Hanifah, H., & Lita Sari, N. . (2023). Membangun Kesadaran Siswi tentang Pelecehan Seksual di Media Sosial. Jurnal Pengabdian Kepada Masyarakat Nusantara, 4(3), 2270-2274. https://doi.org/10.55338/jpkmn.v4i3.1445
License
Copyright (c) 2023 Tunjung Bayu Sinta, Hanifah Hanifah, Noor Lita Sari
This work is licensed under a Creative Commons Attribution-ShareAlike 4.0 International License.