Pemberdayaan Kader Dalam Upaya Peningkatan Pengetahuan Ibu Hamil Tentang Imunisasi Tetanus Toxoid Di Desa Bandar Setia
Keywords:
Kader Pengetahuan Hamil Imunisasi Tetanus Toxoid
Abstract
Pada tahun 2021 menunjukkan 7.389 kematian ibu di Indonesia. Salah satu penyebabnya yakni infeksi yang disebabkan oleh bakteri Clostridium tetani. Sebagai upaya pengendaliannya maka dilaksanakan program imunisasi Tetanus Difteri (Td) bagi Wanita Usia Subur. Cakupan imunisasi Td2+ pada ibu hamil tahun 2021 sebesar 46,4%. Cakupan ini lebih rendah dibandingkan tahun 2020 sebesar 54,7%. Salah satu faktor penyebab rendahnya adalah rendahnya pengetahuan ibu hamil tentang imunisasi TT. Penulis bertujuan melakukan pengabdian kepada masyarakat dengan melakukan Pemberdayaan Kader Dalam Upaya Peningkatan Pengetahuan Ibu Hamil Tentang Imunisasi Tetanus Toxoid di Desa Bandar Setia. Pengabdian dilakukan dengan tahapan persiapan, pelaksanaan dan Evaluasi. Hasil pretest dan posttest menunjukkan ada peningkatan pengetahuan kader tentang imunisasi TT. Diharapkan dengan adanya pengabdian ini, dapat mengubah pengetahuan ibu hamil dan perilaku sehingga bersedia dilakukan imunisasi TT.
Downloads
Download data is not yet available.
References
Alexander, Thesa Aulia Putri (2019). Faktor-Faktor Yang Mempengaruhi Ibu Hamil Dalam Melakukan Boene, H., Vidler, M., Augusto, O., Sidat, M., Macete, E., Menéndez, C., ... & Sevene, E. (2016). Community health worker knowledge and management of pre-eclampsia in southern Mozambique. Reproductive Health, 13(2), 149-162.
Imunisasi Tetanus Toxoid Di Puskesmas Siantan Hilir Kota Pontianak Tahun 2019. Jurnal Kebidanan-ISSN 2252-8121. Volume 9 Nomor 1 Tahun 2019
Hani, Ummi. 2014. Asuhan Kebidanan Pada Kehamilan Fisiologis. Publisher : Yogyakarta
Jiang, J., & Wang, P. (2020). Is linking social capital more beneficial to the health promotion of the poor? Evidence from China. Social Indicators Research, 147(1), 45-71.Hidayati , Subriah (2020). Peningkatan Peran Kader Dalam Pemberian Informasi Secara Langsung
Mengenai Imunisasi Tetanus Difteri (Td) Pada Ibu Hamil Di Wilayah Kerja Puskesmas Kassi Kassi Kota Makassar. Jurnal Media Implementasi Riset Kesehatan. Vol I No. 2, Desember 2020.
Kemenkes RI. (2022). Profil Kesehatan Indonesia 2021. In Pusdatin.Kemenkes.Go.Id.
Kemenkes RI. 2014. (Infodatin) Pusat Data Dan Informasi Kementerian Kesehatan RI. Jakarta: Kemenkes RI. 2014
Koyio, L. N., van der Sanden, W. J., Dimba, E. O., Mulder, J., van der Ven, A. J., Merkx, M. A., & Frencken, J. E. (2014). Knowledge of Nairobi East District Community Health Workers concerning HIV-related orofacial lesions and other common oral lesions. BMC public health, 14(1), 1-8.
Lede, L., Widjanarko, B., & Nurgaheni, A. (2021). Determinan Cakupan Imunisasi Tetanus Toxoid (TT) Pada Ibu Hamil di Indonesia : Literatur Review. Jurnal Ilmiah Kebidanan Indonesia, 11(2), 519.
Levona, Kenneth J. 2015. Manual Williams Komplikasi Kehamilan. EGC : Jakarta
Megasari, dkk. 2015. Panduan Belajar Asuha Kebidanan I. Penerbit Deepublish (Grup Penerbitan CV Budi Utama : Yogyakarta
Peraturan Menteri Kesehatan No 12 Tahun 2017 Tentang Penyelenggaran Imunisasi. Ditjen PP&PL. http://hukor.kemenkes.go.id/uploads.pro od uk_ hukum/PMK_No.12ttg_Penyelenggaraan_Imunisasi_pdf
Prawirohardjo,Sarwono (2014). Buku Acuan Nasional Pelayanan Kesehatan Maternal Dan Neonatal. Jakarta: PT Bina Pustaka Sarwono Prawirohardjo
Romauli, Suryati. 2017. Buku Ajar Asuhan Kebidanan 1. Nuha Medika : Yogyakarta
Saifudin, A Bari. 2012. Ilmu Kebidanan. Jakarta : Tridasa Printer
Simamora, L., Pasaribu, R. S., Rista, H., & Yun, D. C. (2023). The Correlation Between Knowledge And Attitude Of Pregnant Women With Tetanus Diphteria Immunization To Pregnant Women In Bandar Setia Village. International Journal of Midwifery Research, 2(3). Retrieved from https://ijmr.iiknutuban.ac.id/index.php/ijmr/article/view/44
Sutrisari Sabrina Nainggolan, J. H. (2021). Faktor Yang Berhubungan Dengan Pemberian Imunisasi Tetanus Toxoid Pada Ibu Hamil. Problems of Endocrine Pathology, 78(4), 57–64. https://doi.org/10.21856/j-pep.2021.4.08
Triratnasari.Diah. 2016. Faktor Yang Berhubungan Dengan Pelaksanaan Imunisasi Tetanus Difteri Pada Ibu Hamil Di Puskesmas Kecamatan Burneh Kabupaten Bengkalan. https://ejournal.unair.ac.id. JBE/article/viewFile/5435/4270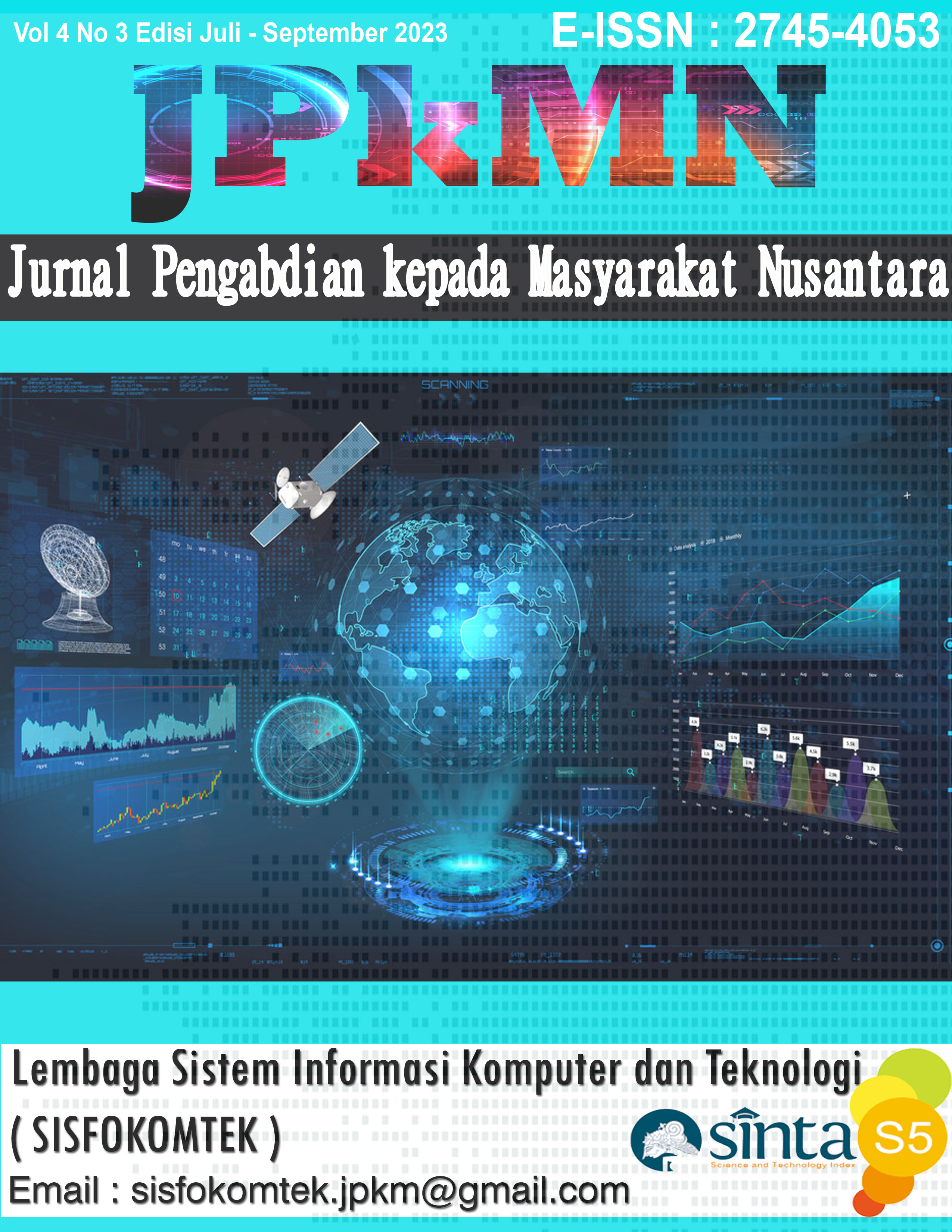 Downloads
How to Cite
Simamora, L., Putri, N. M., Sembiring, I. S., Simbolon, M., Rista, H., & Br Ginting, A. (2023). Pemberdayaan Kader Dalam Upaya Peningkatan Pengetahuan Ibu Hamil Tentang Imunisasi Tetanus Toxoid Di Desa Bandar Setia. Jurnal Pengabdian Kepada Masyarakat Nusantara, 4(3), 2513-2520. Retrieved from https://ejournal.sisfokomtek.org/index.php/jpkm/article/view/1514
License
Copyright (c) 2023 Lasria Simamora, Ninsah Mandala Putri, Isyos Sari Sembiring, Marlina Simbolon, Henny Rista, Astaria Br Ginting
This work is licensed under a Creative Commons Attribution-ShareAlike 4.0 International License.