Lulur bedda lotong rahasia kecantikan wanita suku bugis
Lulur bedda lotong
Keywords:
wirausha, rempah, lulur, wanita, cantik
Abstract
Make a useful lotong bedda scrub using spices. This student entrepreneurship and creativity program aims to inspire and motivate students to become entrepreneurs. This program uses input, process (production), output, and evaluation methods. The results obtained from this program are: input, to ensure market conditions we conducted a market survey, interviewed 10 students at Muhammadiyah University of Palopo, conducted a feasibility study of the business to be carried out, selected materials, and provided facilities and infrastructure to support the production process. The process (production) of making bedda lotong scrub begins with providing materials and tools and continues until the lotong bedda scrub is ready to be sold. Output, namely the result of the lotong bedda scrub that can be purchased and used by consumers. And the last is evaluation, this stage is carried out when the production of Bedda Lotong scrubs has been completed, and will check for any deficiencies that make customers feel uncomfortable using the Bedda Lotong scrubs that we produce. The conclusion of the PKM-K program is to use spices to make scrubs that are of sale value and so that the public and students know about the benefits of using scrubs. In addition, it can encourage students to continue doing business by giving them the opportunity to practice and have a comprehensive understanding of the concept of entrepreneurship.
Downloads
Download data is not yet available.
References
Ahmad, Farid, Siti Ningrum Ratna Ningsih, and Nia Yuniarsih. 2022. "Aktivitas Antioksidan Serum Gel Dari Ekstrak Biji Asam Jawa (Tamarindus Indica L) Sebagai Penangkal Radikal Bebas Dan Pencerah Wajah." Jurnal Health Sains 3(6):798–803. doi: https://doi.org/10.46799/jhs.v3i06.509.
Ali, Nurul fahmi, Hendra Stevani, and Dwi Rachmawaty. 2019. "Formula Dan Stabilitas Sediaan Body Scrub Bedda Lotong Dengan Variasi Konsentrasi Trietanolamin." Media Farmasi 15(1):71–80. doi: 10.32382/mf.v15i1.852.
Arbarini, Atikh, and Maspiyah. 2015. "Pengaruh Penambahan Ekstrak Rimpang Kencur Pada Tepung Beras Terhadap Sifat Fisik Kosmetik Lulur Tradisional." Jurnal Tata Rias 04(02):9–15.
Lestari, Catur Retno, Siti Nurjanah, Lusiana Cici Sabarani, and Fibra Resputri. 2022. "Tingkat Kesukaan Kombinasi Bubuk Kopi Hijau (Coffea Canephora) Dan Kunyit Kuning (Curcuma Domestica Val.) Sebagai Lulur Tradisional Perawatan Tubuh." Indonesian Journal of Biomedical Science and Health 2(1):16–26. doi: 10.31331/IJBSH.v21i1.2153.
Padmadewi, A. A. sagung mirah, and luh putu Mahyuni. 2021. "Pemberdayaan Petani Padi Di Desa Mas, Ubud, Bali Melalui Pelatihan Pembuatan Lulur Tradisional Berbahan Dasar Beras." Pengabdian Kepada Masyarakat 5(6):1453–64. doi: 10.31849/dinamisia.v5i6.6304.
Prabandani, Rani, and Hilda Suherman. 2018. "Formulasi Sediaan Lulur Pencerah Dan Penghalus Kulit Dari Kunyit (Curcuma Longa Linn)." Viva Medika: Jurnal Kesehatan, Kebidanan Dan Keperawatan 11(3):59–67. doi: https://doi.org/10.35960/vm.v10i2.
Puspitaningsih, Ni Wayan Eka, and Luh Putu Mahyuni. 2021. "Pelatihan Pembuatan Daun Bidara Menjadi Produk Lulur Tradisional Didesa Kutuh." Pengabdian Kepada Masyarakat 5(4):488–99.
Rahayu, Debrina Ika, and Mutimatul Faidah. 2013. "Pengaruh Penambahan Berbagai Komposisi Kayu Manis Dan Madu Dalam Pembuatan ACNE LOTION Terhadap Penyamaran Noda Jerawat Pada Kulit Berminyak." Jurnal Tata Rias 03(02):98–104.
Rahmadevi, Fitriani Arin, Oktaviani Puspita, Armayana Firda, and Yasnawati. 2020. "Lulur Gosok Tradisional BERSERI (Beras, Serai Wangi, Kunyit) Sebagai Antioksidan." Jurnal Abdimas Kesehatan (JAK) 2(3):190–94. doi: 10.36565/jak.v2i3.125.
Sumiati, Andi Muhammad Irfan Taufan Asfar, Andi Muhamad Iqbal Akbar Asfar, Aisyah Nursyam, Andi Fauziah, and Nurhasanah. 2021. "Diseminasi Pemanfaatan Limbah Menir Beras Sebagai Produk Etno-Spa Bedda Lotong Khas Suku Bugis-Makassar." Unri Conference Series: Community Engagement 3:34–39. doi: 10.31258/unricsce.3.34-39.
Suriani, Seri, Dahlia Dahlima Moelier, and Sukmawati. 2019. "Peningkatan Pendapatan Usaha Bedda Lotong Melalui Program Kemitraan Masyarakat Di Paria Kec. Majauleng Kab. Wajo." Anadara Pengabdian Kepada Masyarakat 1(2):100–105.
Wardini, Ladisia agata, and Siti Sulandjari. 2017. "Pengaruh Penambahan Tepung Kulit Pisang Kepok Dan Kulit Jeruk Nipis Terhadap Hasil Lulur Tradisionl." E-Journal Tata Rias 06(01):73–80.
Wati, Helmina, Rahmi Hidayati, Eny Hastuti, and Nurul Mardiati. 2021. "Pemberdayaan Masyarakat Dalam Pembuatan Lulur Tradisional Dari Beras Dan Kunyit Di Kecamatan Cempaka Banjarbaru." PengabdianMu: Jurnal Ilmiah Pengabdian Kepada Masyarakat 6(6):621–24. doi: 10.33084/pengabdianmu.v6i6.2225.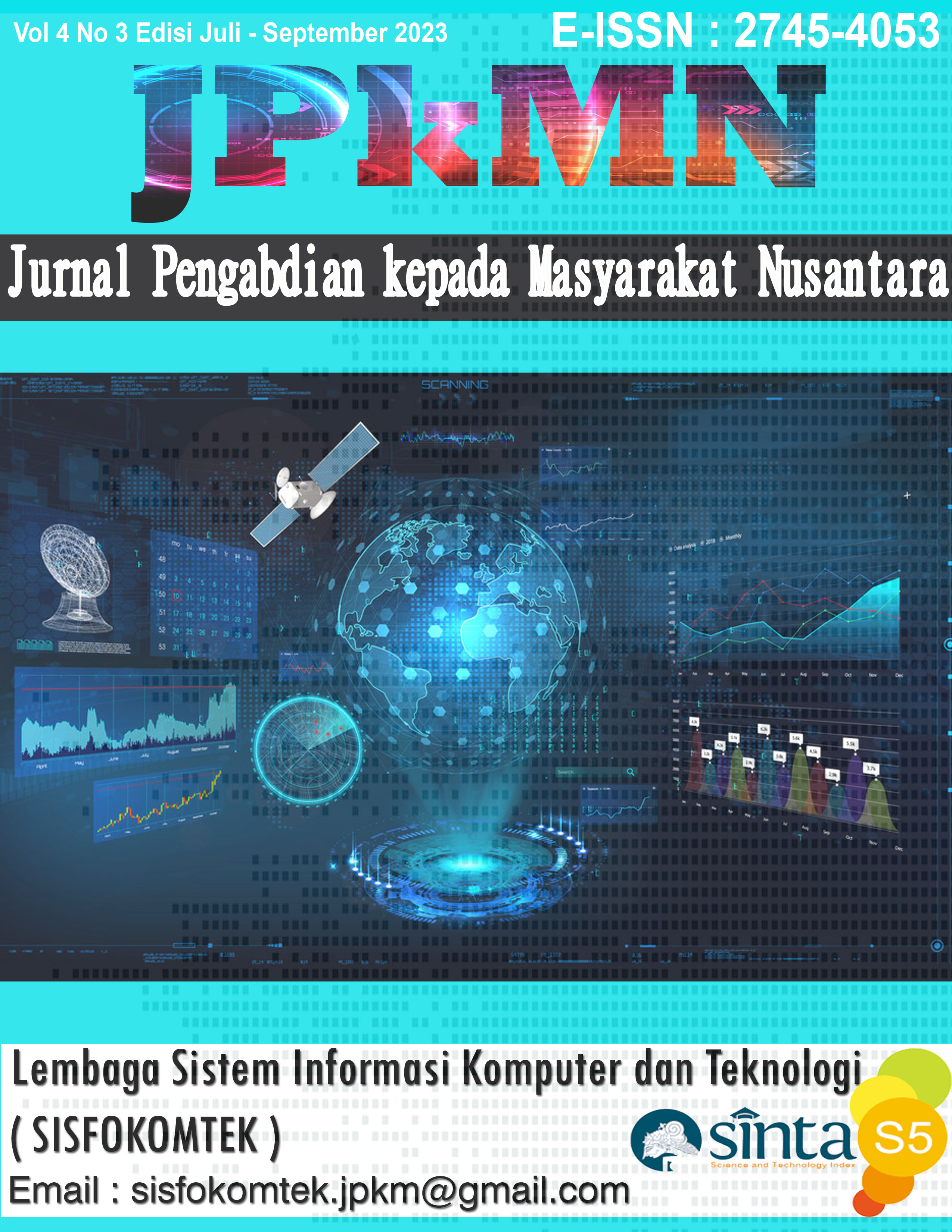 Downloads
How to Cite
Aisha, Azila, N. ., Ishaka Ismail, A. ., Sapar, S. ., & Samsinar , S. . (2023). Lulur bedda lotong rahasia kecantikan wanita suku bugis: Lulur bedda lotong. Jurnal Pengabdian Kepada Masyarakat Nusantara, 4(3), 1665-1670. https://doi.org/10.55338/jpkmn.v4i3.1173
License
Copyright (c) 2023 Aisha, Nur Azila, Annisa Ishaka Ismail, Sapar Sapar, Samsinar Samsinar
This work is licensed under a Creative Commons Attribution-ShareAlike 4.0 International License.
Most read articles by the same author(s)
Amanda Amanda, Nur Afni, Muh Taufiq Darwis, Sapar Sapar, Samsinar Samsinar, Bedak Dingin Ekstrak Temulawak , Jurnal Pengabdian kepada Masyarakat Nusantara: Vol. 4 No. 2 (2023): Jurnal Pengabdian kepada Masyarakat Nusantara (JPkMN)
Andi Mutiara Azzahra, Rahmadina Rahmadina, Alhafidz Asir, Muh Arifal, Sapar Sapar, Samsinar Samsinar , Pemanfaatan Lilin Biasa Menjadi Produk Lilin Aromaterapi Fresh Yang Bernilai Jual , Jurnal Pengabdian kepada Masyarakat Nusantara: Vol. 4 No. 3 (2023): Jurnal Pengabdian kepada Masyarakat Nusantara (JPkMN)