Implementasi Digital Marketing UMKM Erni Cake and Cookies Desa Mojotengah Kecamatan Bareng Kabupaten Jombang
Keywords:
UMKM, Digital Marketing, Facebook Marketplace, WhatsApp Business, Instagram
Abstract
Digital marketing is a marketing activity that utilizes digital technology sophistication. By implementing digital marketing, business activities will be more efficient, and can increase the productivity of MSMEs. The focus of implementing digital marketing is the UMKM Erni Cake and Cookies whose business development has not optimally utilized information technology. The implementation method begins with conducting surveys and interviews, digital marketing outreach, mentoring, and evaluation. The platforms chosen as a means of product promotion are Facebook Marketplace, WhatsApp Business, and Instagram. The results obtained from the implementation of digital marketing at Erni Cake and Cookies UMKM are that UMKM owners feel helped and feel the impact such as interaction with new prospective buyers on one of the platforms used as a means of promotion. In order to maximize the use of digital marketing, a consistent attitude is needed in posting products on various platforms, so that it will attract new potential buyers.
Downloads
Download data is not yet available.
References
Al, Muhamad, Faruq Abdullah, and Dan Fathihani. n.d. "Jurnal Pengabdian Masyarakat (ANDHARA) MEMANFAATKAN WHATSAPP BUSINESS SEBAGAI SARANA PENUNJANG DIGITAL MARKATING UMKM DI TENGAH PANDEMIK COVID-19 DI KELURAHAN TANJUNG DUREN."
Jannatin, Rahmatul, M. Wahyu Wardhana2, Rudi Haryanto, Agus Pebriyanto, and Politeknik Negeri Banjarmasin. n.d. PENERAPAN DIGITAL MARKETING SEBAGAI STRATEGI PEMASARAN UMKM.
Mawadati, Argaditia, Windyaning Ustyannie, Eka Sulistyaningsih, Agus Hindarto Wibowo, Kartinasari Ayuhikmatin Sekarjati, Endang Widuri Asih, Trisakti Eli Gulo, Jurusan Teknik Industri, Fakultas Teknologi Industri, Ist AKPRIND Yogyakarta, Jurusan Rekayasa Sistem Komputer, and Fakultas Sains Terapan. n.d. "Diterbitkan Oleh LPPM IST AKPRIND Yogyakarta STRATEGI PEMASARAN PRODUK DENGAN WHATSAPP BUSINESS BAGI UMKM."
Purwana, Dedi, R. Rahmi, and Shandy Aditya. 2017. "Pemanfaatan Digital Marketing Bagi Usaha Mikro, Kecil, Dan Menengah (UMKM) Di Kelurahan Malaka Sari, Duren Sawit." Jurnal Pemberdayaan Masyarakat Madani (JPMM) 1(1):1–17. doi: 10.21009/jpmm.001.1.01.
Sasongko, Dimas, Intan Rahma Putri, Vivi Nur Alfiani, Saskia Dyah Qiranti, Riski Sinta Sari, and Pramania Eka Allafa. 2020. "Digital Marketing Sebagai Strategi Pemasaran UMKM Makaroni Bajak Laut Kabupaten Temanggung." Jurnal Ilmiah Pangabdhi 6(2):92–96. doi: 10.21107/pangabdhi.v6i2.7809.
Simatupang, Sudung, Debi Eka Putri, and Sekolah Tinggi Ilmu Ekonomi Sultan Agung. 2021. Facebook Marketplace Serta Pengaruhnya Terhadap Minat Beli (Facebook Marketplace And Its Influences On Buying Interest). Vol. 22.
Soelaiman, Lydiawati, and Anastasia Ria Utami. 2021. "FAKTOR-FAKTOR YANG MEMPENGARUHI ADOPSI MEDIA SOSIAL INSTAGRAM DAN DAMPAKNYA TERHADAP KINERJA UMKM." Jurnal Muara Ilmu Ekonomi Dan Bisnis 5(1):124. doi: 10.24912/jmieb.v5i1.11104.
Sumber, Pengembangan, Daya Perdesaan, Dan Kearifan, and Lokal Berkelanjutan. 2019. Prosiding Seminar Nasional Dan Call for Papers "Tema: 5 (Kewirausahaan, Koperasi Dan UMKM)."
Susanti, Elisa. 2020. "PELATIHAN DIGITAL MARKETING DALAM UPAYA PENGEMBANGAN USAHA BERBASIS TEKNOLOGI PADA UMKM DI DESA SAYANG KECAMATAN JATINANGOR." Sawala : Jurnal Pengabdian Masyarakat Pembangunan Sosial, Desa Dan Masyarakat 1(2):36. doi: 10.24198/sawala.v1i2.26588.
Susanto, Ajib, Christy Atika Sari, De Rosal, Ignatius Moses, Eko Hari Rachmawanto, Ibnu Utomo, Wahyu Mulyono, and Teknik Informatika. n.d. Implementasi Facebook Marketplace Untuk Produk UMKM Sebagai Upaya Peningkatan Pemasaran Dan Penjualan Online Implementation of Facebook Marketplace for MSME Products as an Effort to Increase Marketing and Online Sales. Vol. 3.
Wahyunti, Sri, Jalan Anggrek, No 16, Ranggo Na', and Kota Bima. n.d. PERAN STRATEGIS UMKM DALAM MENOPANG PEREKONOMIAN INDONESIA DI TENGAH PANDEMI COVID 19.
Wilayah, Kopertis X., Zulia Khairani, Efrita Soviyant, Aznuriyandi Fakultas Ekonomi, and Universitas Lancang Kuning. 2018. "247) EFEKTIVITAS PROMOSI MELALUI INSTAGRAM PADA UMKM SEKTOR MAKANAN DAN MINUMAN DI KOTA PEKANBARU." Jurnal Benefita 3(2):239. doi: 10.22216/jbe.v3i1.2738.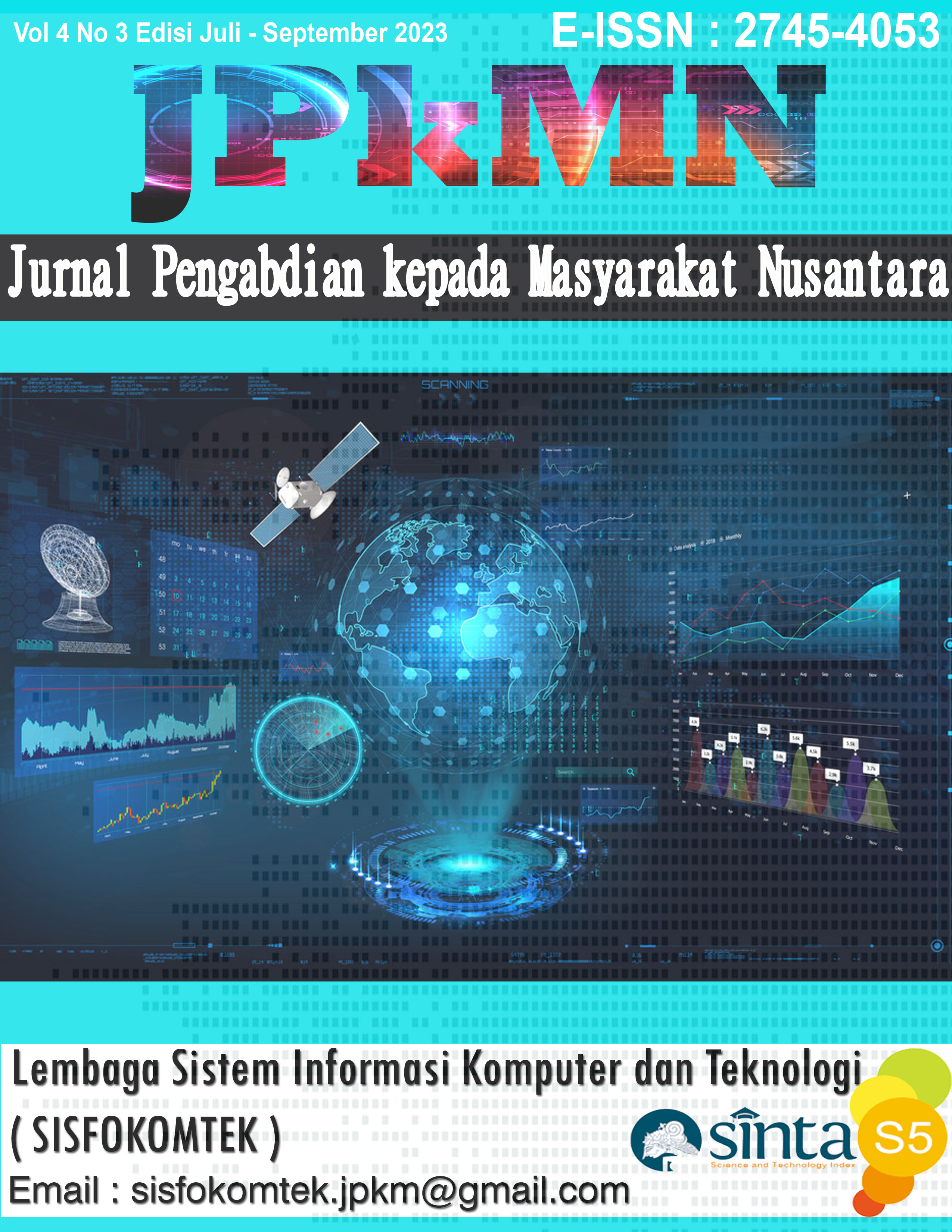 Downloads
How to Cite
Siska Yuliana, A. ., Sishadiyati, S., & Priana Primandhana, W. . (2023). Implementasi Digital Marketing UMKM Erni Cake and Cookies Desa Mojotengah Kecamatan Bareng Kabupaten Jombang. Jurnal Pengabdian Kepada Masyarakat Nusantara, 4(3), 1902-1907. https://doi.org/10.55338/jpkmn.v4i3.1228
License
Copyright (c) 2023 Alifia Siska Yuliana, Sishadiyati Sishadiyati, Wiwin Priana Primandhana
This work is licensed under a Creative Commons Attribution-ShareAlike 4.0 International License.
Most read articles by the same author(s)