SOSIALISASI DAN PELATIHAN INOVASI MAKANAN SEHAT SEBAGAI IDE BISNIS DI KELURAHAN KEPANJEN KIDUL,BLITAR
Keywords:
UMKM, Digital Marketing, Canva, Inovasi, Omelet Telur
Abstract
Kepanjen Kidul Village is one of the villages in Kepanjen Kidul District, Blitar City, East Java Province. One of the problems faced is the lack of awareness of MSME actors about the importance of digital marketing to advance their business. This sub-district is the city center so it must be able to show special culinary delights for tourists from outside the city so they can find out more about Blitar City. This community service activity aims to provide training in making healthy food, namely "Fried Shredded Egg Omelette" which can later be used as a new business idea for MSMEs. This activity was also supported by socialization regarding digital marketing and the use of the Canva application to support their business. The activity was held on June 13 2023 which was attended by 15 participants. The material presented in the training activities is the process of making, decorating, and also packaging the Shredded Egg Omelette. The method used is socialization and training with the aim of being able to provide knowledge to the community and continued training methods so that they can maximize the knowledge gained during the socialization. The implementation of the activity was carried out with socialization regarding digital marketing and then continued with training on making healthy food. After this activity is carried out, it is hoped that it will increase knowledge about digital marketing, use the Canva application and understand about managing healthy food, decorating and packaging a product.
Downloads
Download data is not yet available.
References
Aditiawati, P., Astuti, D. I., Suantika, G., & Simatupang, T. M. (2016). Pengembangan potensi lokal di Desa Panawangan sebagai model desa vokasi dalam pemberdayaan masyarakat dan peningkatan ketahanan pangan nasional. Jurnal Sosioteknologi, 15(1), 59-67.
Diniyah, R. (2022). LKP: Perancangan Desain Logo dan Kemasan Keripik Pisang UMKM Fendysa di UPTI. Mamin Disperindag Provinsi Jawa Timur (Doctoral dissertation, Universitas Dinamika).
Kuswardinah, A. (2016). Determinan pembentuk keluarga sejahtera bagi keluarga miskin pedesaan di Kabupaten Wonosobo yang berbasis industri kreatif pangan. Jurnal Pendidikan Vokasi, 6(3), 247-259.
Marlaeni, R. R. (2023). Pelaksanaan Program Pemberdayaan Masyarakat Rukun Tetangga (Rt Keren) Dalam Upaya Meningkatkan Kesejahteraan Masyarakat (Studi Kasus Kampung Batik Turi Kelurahan Turi Rt 03 Rw 02 Kota Blitar) (Doctoral Dissertation, Universitas Muhammadiyah Malang).
Mufreni, A. N. F. (2016). Pengaruh desain produk, bentuk kemasan, dan bahan kemasan terhadap minat beli konsumen (Studi kasus The Hijau Serbuk Tocha). Jurnal Ekonomi Manajemen, 2(2), 48-54.
Oktaviani, F., & Rustandi, D. (2018). Implementasi digital marketing dalam membangun brand awareness. PRofesi Humas, 3(1), 1-20.
Setiyana, C. D. M. R., & Maulidasari, C. D. (2020). Sosialisasi digital marketing pada usaha mikro kecil menengah (umkm). Jurnal Pengabdian Masyarakat Darma Bhakti Teuku Umar, 2(1), 63-73.
Tambunan, S. R. (2016). Peran kemasan snack dalam membangun hubungan emosional konsumen. JUPIIS: Jurnal Pendidikan Ilmu-Ilmu Sosial. 18(1), 26-33.
Tanjung, R. E., & Faiza, D. (2019). Canva sebagai media pembelajaran pada mata pelajaran dasar listrik dan elektronika. Voteteknika (Vocational Teknik Elektronika Dan Informatika), 7(2), 79-85.
Uhai, S., & Sudarmayasa, I. W. (2020). Pelatihan Pembuatan Makanan Sehat Untuk Program Diet Alami Yang Bergizi Untuk Kelompok Ibu-ibu Di Samarinda. Sebatik, 24(2), 222-227.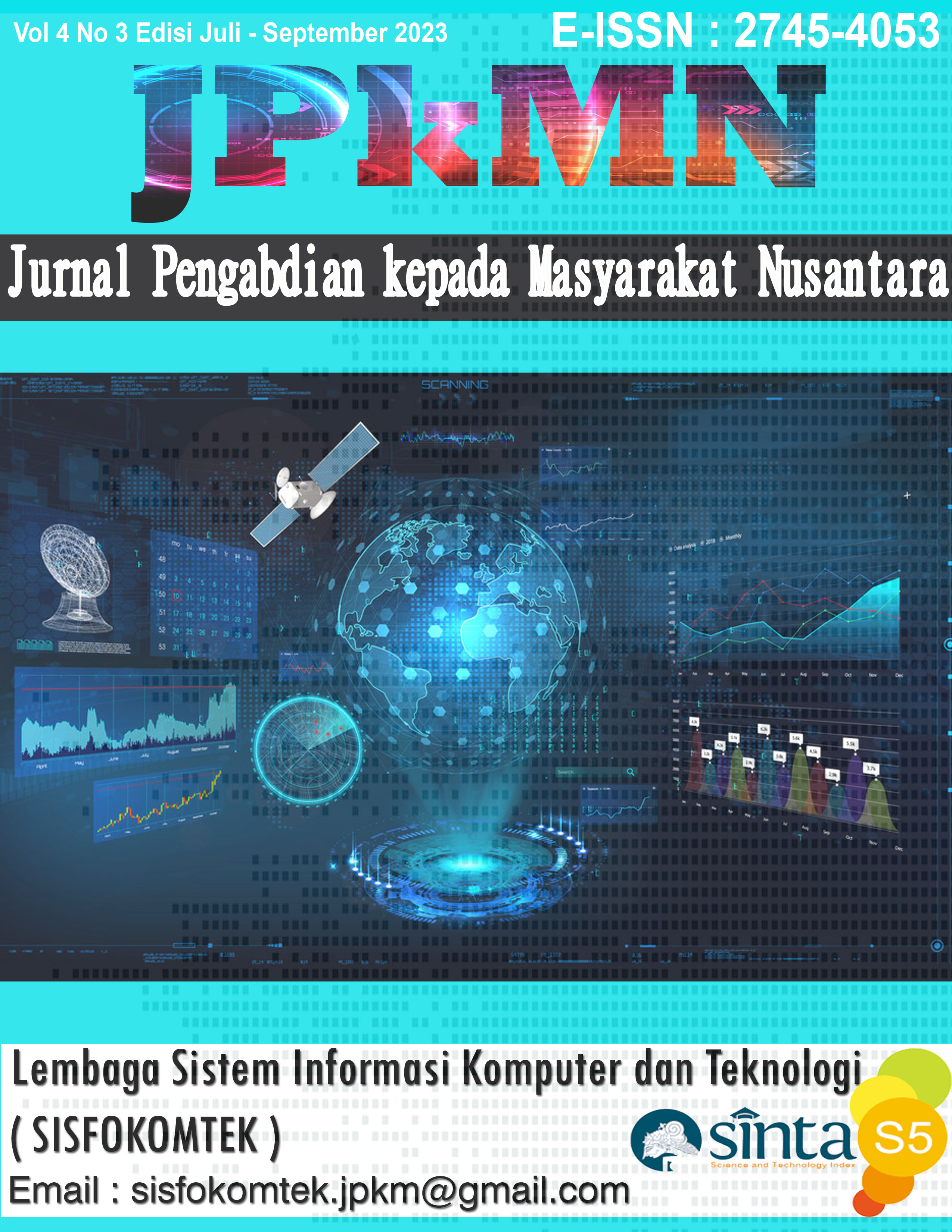 Downloads
How to Cite
Devi Ainaya, C., Imaningsih, N., & Fadil, C. (2023). SOSIALISASI DAN PELATIHAN INOVASI MAKANAN SEHAT SEBAGAI IDE BISNIS DI KELURAHAN KEPANJEN KIDUL,BLITAR. Jurnal Pengabdian Kepada Masyarakat Nusantara, 4(3), 1932-1938. https://doi.org/10.55338/jpkmn.v4i3.1238
License
Copyright (c) 2023 Cita Devi Ainaya, Niniek Imaningsih, Cholid Fadil
This work is licensed under a Creative Commons Attribution-ShareAlike 4.0 International License.
Similar Articles
Innike Fitra Farastutie, Mirda Yuma Eka Putri, Singgih Manggalou, Optimalisasi Digitalisasi UMKM di Kelurahan Rungkut Kidul , Jurnal Pengabdian kepada Masyarakat Nusantara: Vol. 4 No. 3 (2023): Jurnal Pengabdian kepada Masyarakat Nusantara (JPkMN)
ade Moussadecq, Desiana Muryasari, Abdi Darmawan, Iki Nursyanto, Ketut Artaye, Helen Larissa, P Pelatihan Desain Grafis Bagi Siswa-Siswi SMA negeri 5 Bandar Lampung , Jurnal Pengabdian kepada Masyarakat Nusantara: Vol. 4 No. 1 (2023): Jurnal Pengabdian kepada Masyarakat Nusantara (JPkMN)
You may also start an advanced similarity search for this article.
Most read articles by the same author(s)