Penggunaan Opinion Leader Sebagai Strategi Pemasaran Di UMKM Nganjuk
Keywords:
Kata Kunci : Pemimpin Opini, strategi Pemasaran, UMKM, lingkungan, Tradisional
Abstract
Penelitian ini merupakan penelitian kualitatif deskriptif. Subyek penelitian ini adalah 5 orang warga lokal dari desa Musir Kidul. Metode pengumpulan data yang digunakan adalah observasi, interview (wawancara), dan dokumentasi
Penelitian ini bertujuan untuk mengetahui bagaimana peran tokoh masyarakat dalam menyampaikan sebuah informasi tersebut agar dapat didengar oleh warga dilingkungan mereka serta untuk mengetahui adanya peningkatan dalam penjualan UMKM apabila tokoh masyarakat  melakukan pemasaran tradisional menggunakan proses pemasaran dari mulut ke mulut
Hasil penelitian menunjukkan : pertama, wawancara dengan salah satu warga mengatakan bahwa orang yang mempunyai jabatan tertinggi di wilayah tersebutlah yang memiliki dampak yang cukup besar dan juga seseorang yang mempunyai kepedulian tinggi terhadap suatu hal di wilayah tersebut yang kemungkinan besar dapat menjadi pemimpin opini. Kedua, seseorang yang mempunyai hubungan baik dengan masyarakat dan memiliki rasa kekeluargaan yang erat serta memiliki gaya interaksi yang berbeda yang dapat menjadi pemimpin opini. Pemimpin opimi dapat dengan mudah untuk mempengaruhi seseorang untuk membeli sebuah produk ,sehingga apabila melakukan pemasaran dari mulut ke mulut dirasa akan sangat efefktif untuk diterapkan
Kata Kunci : Pemimpin Opini, strategi Pemasaran, UMKM, lingkungan, Tradisional
Downloads
Download data is not yet available.
References
Creswell, J. W., & Poth, C. N. (2018). Qualitative inquiry and research design: Choosing among five approaches. Sage Publications.
Lusia, A. (2022). Peran Strategis Jero Mangku Sebagai Opinion Leader dalam Komunikasi Kebencan Omunikasi Kebencanaan Gunung Agung di Amerta Bhuana, Karangasem, Bali. Sosial Humaniora Terapan, 4(2), 7.
Noy, C. (2008). Sampling knowledge: The hermeneutics of snowball sampling in qualitative research. International Journal of social research methodology. International Journal of Social Research Methodology, 11(4), 327–344.
Nugroho, R. A., & Septiani, R. (2019). The Role of Religious Leader as Opinion Leader in Community. Jurnal The Messenger, 11(1), 18–29.
Pratiwi, Hakim, dan R. Y. (2017). Identifikasi Opinion Leader di Kalangan Mahasiswa untuk Produk Laptop. Jurnal Sains Dan Sen, 6(2), 176.
Priyono, E., Sari, W. P., & Nugroho, G. E. (2018). Building Local Brand Through The Empowerment of Tape Handicraft Micro Small Medium Enterprises (MSME) in Musir Kidul Village. International Journal of Scientific & Technology Research, 7(9), 61–66.
Saunders, M. N., Lewis, P., & Thornhill, A. (2018). Research methods for business students. Pearson.
Sulistiyani, A. P. (2021). Analisis Strategi Pemasaran Umkm di Era Industri. Pemasaran Kompetitif, 5(1), 116.
Syara Annisa Fita Hutami, I. M. (2021). Strategi Pemasaran UMKM KUB Berkah dI Desa Karang Asem, Kabupaten Pemalang Pada Era Ne Normal. Jurnal Ilmu Ekonomi Dan Bisnis Islam, 3(1), 98.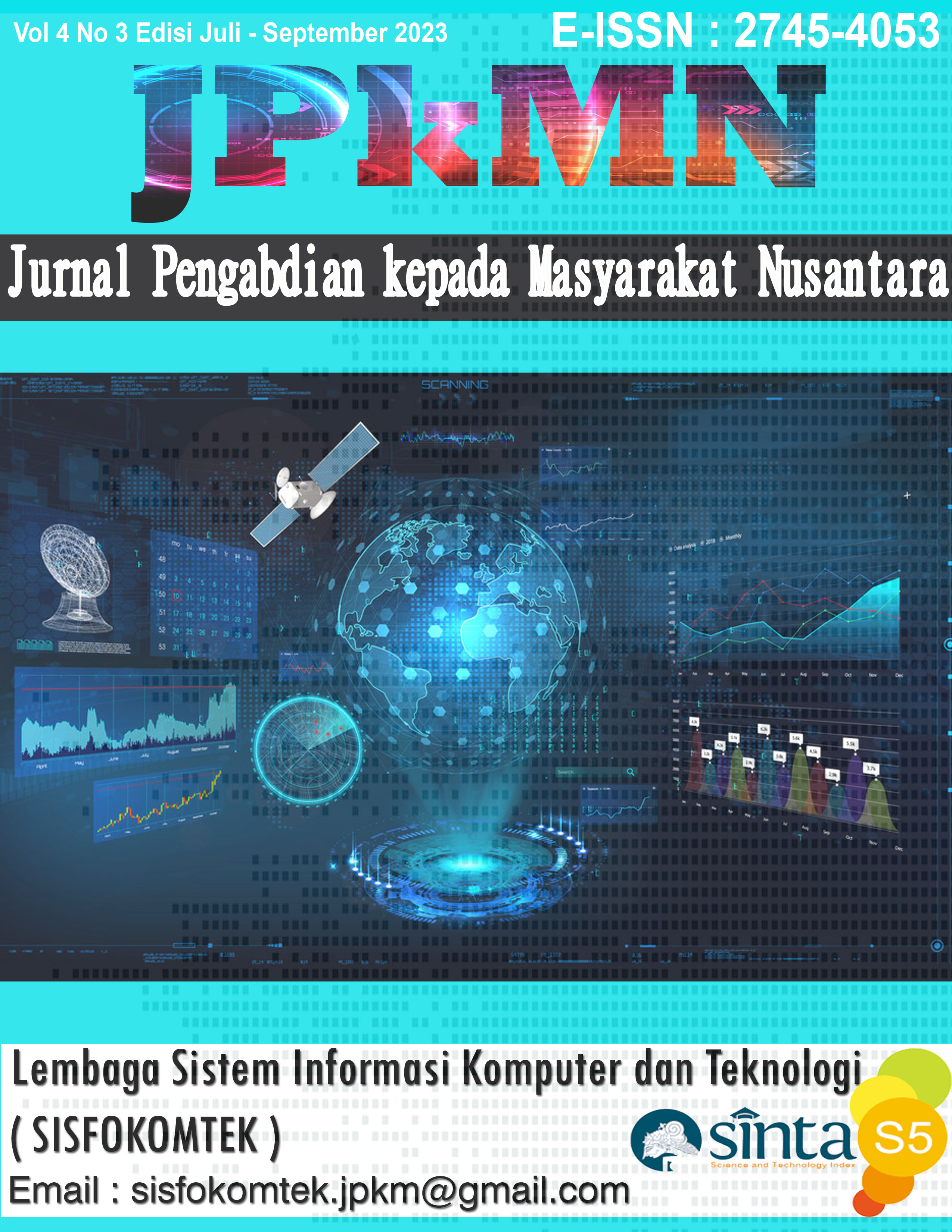 Downloads
How to Cite
Yosediputra, A., & Hadi Raharjo, R. J. (2023). Penggunaan Opinion Leader Sebagai Strategi Pemasaran Di UMKM Nganjuk . Jurnal Pengabdian Kepada Masyarakat Nusantara, 4(3), 1999-2004. https://doi.org/10.55338/jpkmn.v4i3.1288
License
Copyright (c) 2023 Afandy Yosediputra, Raden Johnny Hadi Raharjo
This work is licensed under a Creative Commons Attribution-ShareAlike 4.0 International License.
Most read articles by the same author(s)