Pelatihan Branding pada UMKM Desa Ngrimbi Melalui Pendekatan Mentoring
Keywords:
UMKM, Branding, Mentoring
Abstract
Micro, Small and Medium Enterprises (MSMEs) have a role in maintaining the national economy.  Seeing the potential of MSMEs which can support the economy, MSMEs are one of the businesses that are currently growing a lot. One of the strategies that can be carried out by SMEs is to optimize branding. Ngrimbi Village is one of the villages in Jombang Regency which has MSMEs with a total of around 20 MSMEs. However, most MSMEs in Ngrimbi Village do not have the skills to do branding. So that in supporting the development of MSMEs, it is necessary to have training in branding skills. This training was carried out by KKN Tematik UPN "Veteran" Jawa Timur students with a Mentoring approach. Mentoring activities are carried out in two sessions, namely the presentation and mentoring sections. This training aims to make MSME actors have branding skills in developing their businesses. The research method used is a qualitative approach with data collection techniques in the form of observation and interviews. From the results of the study it was found that by using the mentoring method, MSME actors can understand how to do branding. MSME actors gain knowledge and skills in branding.
Downloads
Download data is not yet available.
References
Adlini, M. N., Dinda, A. H., Yulinda, S., Chotimah, O., & Merliyana, S. J. (2022). Metode penelitian kualitatif studi pustaka. Edumaspul: Jurnal Pendidikan, 6(1), 974–980.
Ambarita, J., Siahaya, A., & Ririhena, I. (2022). Meningkatkan Keterampilan Guru PAUD Melalui Pelatihan Pembuatan Film Animasi di Negeri Waraka. Jurnal Edutrained: Jurnal Pendidikan Dan Pelatihan, 6(1), 12–25.
Anindya, L., & Irhandayaningsih, A. (2021). Penerapan Komponen Human Capital dalam Teori Andrew Mayo (Studi Kasus: Perpustakaan Daerah Kabupaten Purbalingga). Anuva: Jurnal Kajian Budaya, Perpustakaan, Dan Informasi, 5(2), 237–250.
Houghty, G. S., Siswadi, Y., & Mambu, I. R. (2019). MANFAAT DARI PROGRAM MENTORING DI FAKULTAS KEPERAWATAN DAN ILMU KESEHATAN UNIVERSITAS PELITA HARAPAN [THE BENEFITS OF A MENTORING PROGRAM IN THE SCHOOL OF NURSING AT UNIVERSITAS PELITA HARAPAN]. Polyglot: Jurnal Ilmiah, 15(1), 93–106.
Kasmawati, Y. (2017). Human capital dan kinerja karyawan (suatu tinjauan teoritis). JABE (Journal of Applied Business and Economic), 3(4), 265–280.
Prihantari, G. A. P. E. D., Manuaba, I. B. P., Harthawan, I. G. N. P., Handayani, I. A. R. P., Junitasari, P. D. K., & Premayanti, K. P. (2023). Pelatihan Peningkatan Skill Pelaku UMKM Dan Pengembangan Potensi Ekonomi UMKM Di Desa Wisata Bengkel Tabanan. Joong-Ki: Jurnal Pengabdian Masyarakat, 2(2), 169–174.
Ramadani, J., Nabila, A. R., Sabrina, D. N., Triatmaja, W. J., Rahmadilla, N. Z., Humaira, D. N., Meifarah, N., Genuisty, H., Farras, M. N., & Ardiansyah, N. R. (2023). Pelatihan Pengembangan Skill Penunjang kepada Pelaku Usaha Mikro di Desa Situ Udik Cibungbulang Bogor. Madaniya, 4(1), 197–204.
Setiawati, S. D. (2019). Strategi membangun branding bagi pelaku usaha mikro kecil menengah. Jurnal Abdimas BSI: Jurnal Pengabdian Kepada Masyarakat, 2(1), 125–136.
Zulfikar, T., Kadarisman, S., Djogo, O., Paramarta, V., Yuliati, F., Mulyani, S. R., Panjaitan, B., & Kurniasih, A. (2022). Branding dan Digital Marketing Meningkatkan Penjualan pada Pelaku Usaha Dodol Nanas Desa Tambakmekar Jalancagak Kabupaten Subang. Jurnal Abdimas Peradaban, 3(1), 41–47.
Asri, D. P. (2018). Pengembangan Industri Kreatif UMKM Asal Yogyakarta Melalui Pendaftaran" Jogja Co Branding" (Vol. 18). Kosmik Hukum.
Lutfiyani, I. Q. (2022). Pengembangan UMKM Melalui Optimalisasi Branding dan Penggunaan Media Digital di Desa Sindangbarang, Kabupaten Cilacap (Vol. 4). Jurnal Pusat Inovasi Masyarakat (PIM).
Rezky, S. F. (2021). Branding UMKM untuk Meningkatkan Potensi Promosi dan Penjualan Secara Mandiri (Vol. 1). Jurnal Pengabdian Masyarakat IPTEK.
N, P. D. (2022). Sosialisasi Dan Pelatihan Penggunaan Aplikasi Canva Kepada Kelompok Sadar Wisata Di Kampung Jawi Surabaya (Vol. 5). Jurnal Bakti Masyarakat Indonesia.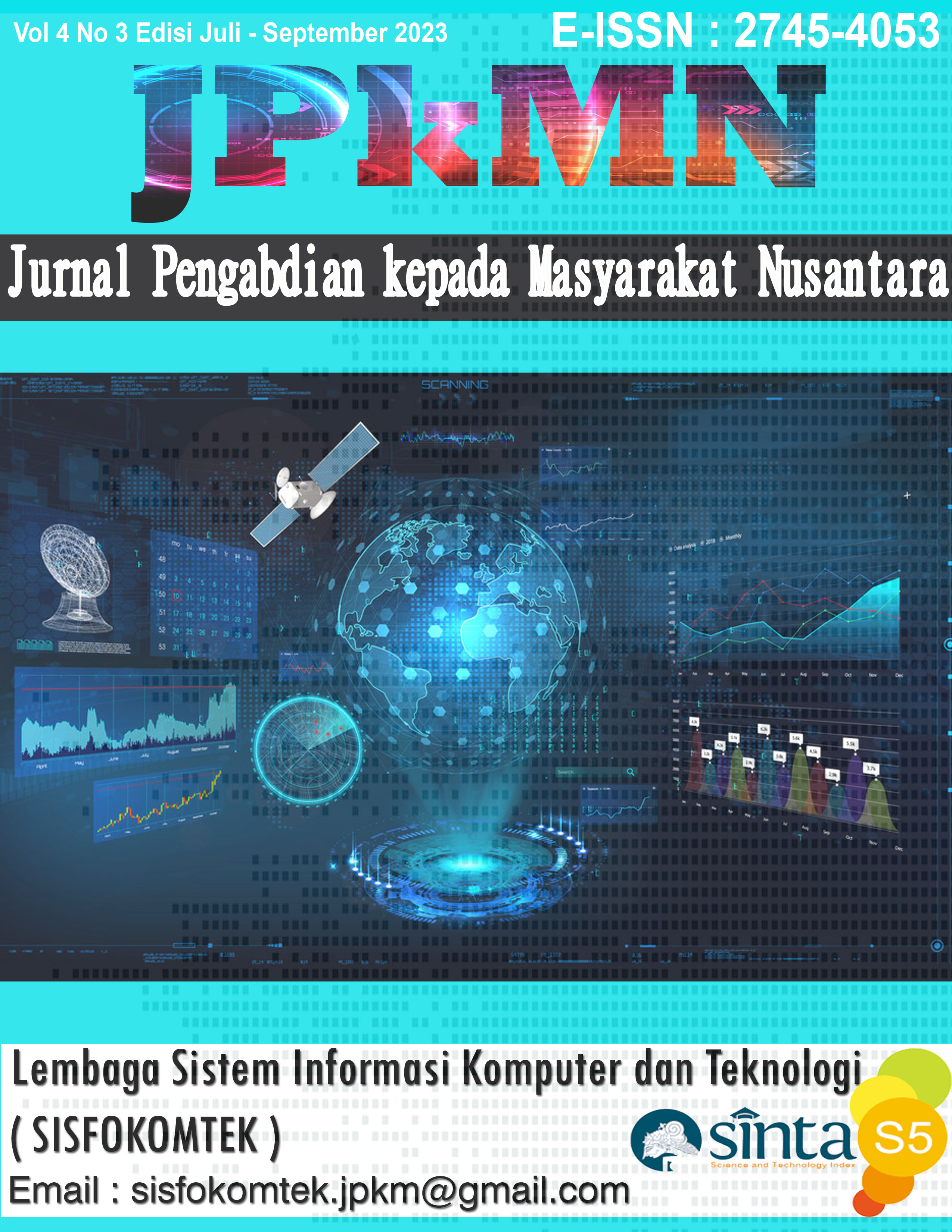 Downloads
How to Cite
Fahrezi Ramadhani, M. ., & Hadi Raharjo, R. J. (2023). Pelatihan Branding pada UMKM Desa Ngrimbi Melalui Pendekatan Mentoring. Jurnal Pengabdian Kepada Masyarakat Nusantara, 4(3), 2188-2195. https://doi.org/10.55338/jpkmn.v4i3.1290
License
Copyright (c) 2023 Muhammad Fahrezi Ramadhani, Raden Johnny Hadi Raharjo
This work is licensed under a Creative Commons Attribution-ShareAlike 4.0 International License.
Most read articles by the same author(s)