Sosialisasi Cara Menulis Sitasi dan Daftar Pustaka pada Mahasiswa Program Studi Pendidikan Matematika
Keywords:
sosialization, citation, bibliography, students, mathematics education
Abstract
Citation is a reference or usually also known as a quote that allows the author to provide recognition for the reference sources that have been cited. Citation writing is needed to strengthen one's argument against the results of his research. However, writers often make mistakes in writing citations and bibliography. This happens a lot, especially among students of the Mathematics Education Department at Universitas Pendidikan Mandalika. This service activity aims to increase students' understanding of how to write citations and bibliography. Community service activities were carried out online for one day with 14 student participants. The method used is the lecture and question and answer method, in which the stages of the activity are divided into four stages, namely the planning, registration, implementation and evaluation stages. The instruments used in this activity were a questionnaire regarding participants' understanding of writing citations and a bibliography developed in the form of a Google form and given before and after the community service activities. The results of the community service activities showed that there was an increase in students' understanding of writing citations and bibliography. This increase can be seen from the results of the comparison of the participants' pre-test and post-test results.
Downloads
Download data is not yet available.
References
Agustiana, I. G. A. T., Tika, I. N., & Wibawa, I. M. C. (2018). Pelatihan Membuat Daftar Isi dan Daftar Pustaka dengan Sekali Klik Berbantuan Mendeley Bagi Para Dosen PTS dalam Menyusun Artikel dan Laporan Penelitian Se-Kabupaten Buleleng. Ngayah: Majalah Aplikasi IPTEKS, 9(1).
Aprianto, D. A., Sayuti, A., Gunalan, S., & Pamungkas, B. A. (2023). Sosialisasi pembuatan sitasi dan daftar pustaka via aplikasi Mendeley. Jurnal Mengabdi dari Hati, 2(1), 09-22.
Arisetywan, K., Prastiwi, L. F., Lika, E., Kiha, E. K., & Rado, B. G. (2022). Sosialisasi pembuatan daftar pustaka pada karya ilmiah mahasiswa menggunakan ms. Word dan mendeley. Community Development Journal: Jurnal Pengabdian Masyarakat, 3(2), 849-855.
Aslindah, A., & Sari, N. I. (2021). Penggunaan Mandeley Dalam Pengelolaan Referensi Pada Penulisan Karya Ilmiah Mahasiswa PG Paud Universitas Widya Gama Mahakam Samarinda. Jurnal Pengabdian Kreativitas Pendidikan Mahakam (JPKPM), 1(2), 129-141.
Azizah, N. N., Maryanti, R., & Nandiyanto, A. B. D. (2021). How to search and manage references with a specific referencing style using google scholar: From step-by-step processing for users to the practical examples in the referencing education. Indonesian Journal of Multidiciplinary Research, 1(2), 267-294.
Dewi, A. K., Suriaman, A., Thamrin, N. S., Usman, E., & Saifah, A. (2022). Sosialisasi Penggunaan Aplikasi Mendeley Pada Mahasiswa Prodi Bahasa Inggris di Universitas Muhammadiyah Palu. " Pue Guru" Journal of Community Servis, 1(02), 1-5.
Faisal, M., Challen, A. E., & Sari, I. (2020). Meningkatkan Efektifitas dan Kualitas Karya Ilmiah Melalui Sosialisasi Manajemen Referensi Bagi Dosen dan Mahasiswa. Humanism: Jurnal Pengabdian Masyarakat, 1(2).
Farmasari, S., Riyanto, A. A., Elmiana, D. S., & Amalina, A. D. (2022). Mendeley Sebagai Aplikasi Pengolah Pustaka Bagi Mahasiswa Tingkat Akhir di Pulau Lombok. Jurnal Pengabdian Magister Pendidikan IPA, 5(3), 209-213.
Inayah, F., Hamka, D. W., Kurniawan, R., & Izmi, S. A. (2023). SOSIALISASI PENGGUNAAN APLIKASI ZOTERO DALAM MENSITASI KARYA ILMIAH. Jurnal Pemberdayaan Masyarakat Nusantara, 1(2), 86-95.
Handayani, P., Nurhayati, N., & Silviyani, Y. A. (2023). SOSIALISASI PENULISAN SITASI DALAM ARTIKEL ILMIAH DENGAN APLIKASI MENDELEY PADA MAHASISWA POLITEKNIK LP3I JAKARTA. Fokus ABDIMAS, 1(2), 72-79.
Ma'rifatulloh, S., Herwiana, S., Zuhriyah, M., & Fajarina, M. (2021). ANALISA KESALAHAN DALAM MENULIS KARYA ILMIAH. SAINSTEKNOPAK, 5(1).
Perdana, F. J. (2020). Sosialisasi Membuat Daftar Pustaka Otomatis Dengan Aplikasi Mendeley Desktop Bagi Mahasiswa Dalam Persiapan Penyusunan Tugas Akhir. Dimasejati: Jurnal Pengabdian Kepada Masyarakat, 2(1), 75-93.
Sari, N. P., & Adam, L. N. (2021). Upaya Pencegahan Plagiarisme Dengan Menggunakan Aplikasi Mendeley Dalam Melakukan Penulisan Sitasi Dan Referensi. SELAPARANG: Jurnal Pengabdian Masyarakat Berkemajuan, 4(3), 586-591.
Sulmiyati, S., Sulistijo, E. D., Malik, A. K., Armadianto, H., & Sabtu, B. (2022). The Workshop Penggunaan Manajemen Referensi Software Zotero bagi Dosen dan Mahasiswa dalam Penulisan Karya Ilmiah. Jurnal Pemberdayaan Masyarakat Petani, 3(2), 392-400.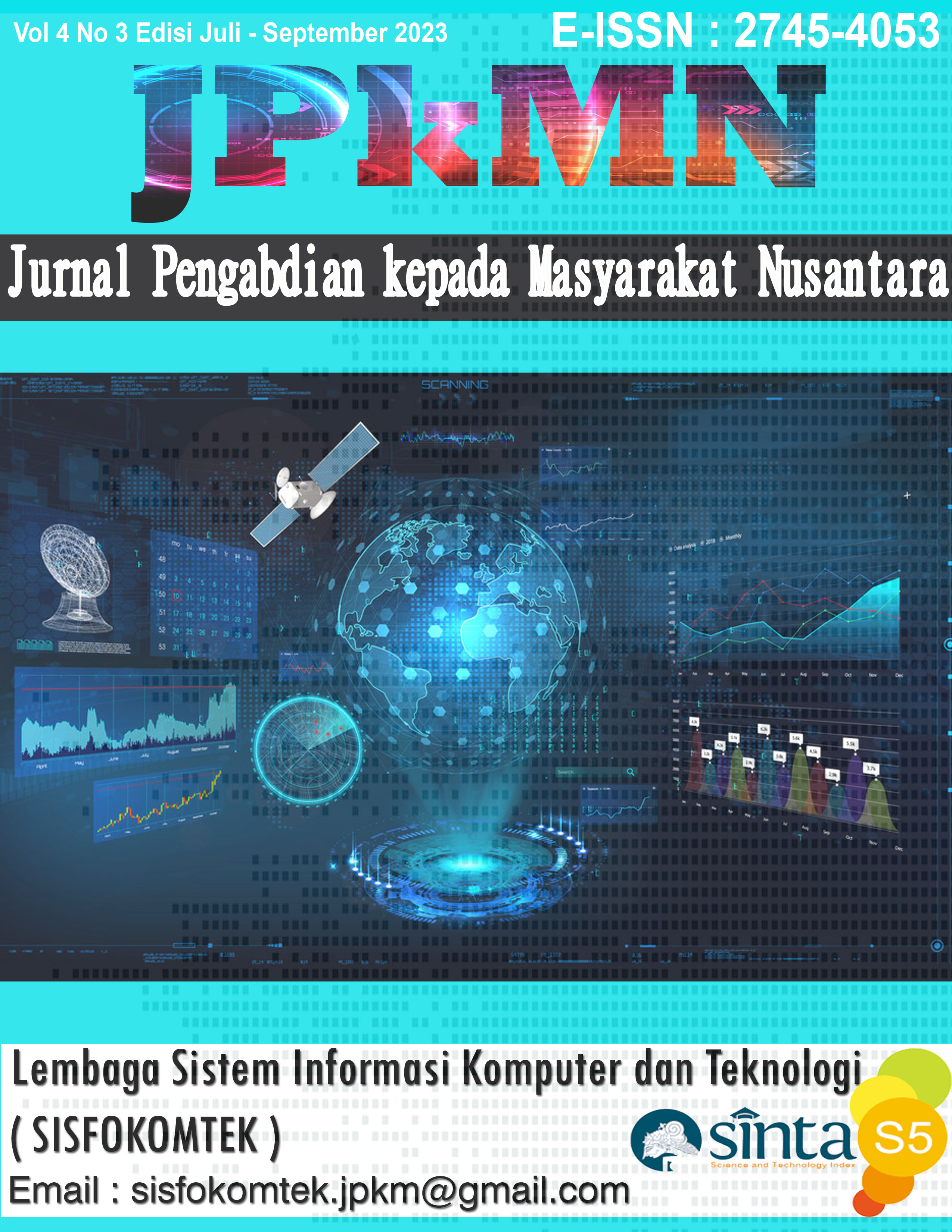 Downloads
How to Cite
Febrilia, B. R. A., Fauzia, N. A., Astuti, S. H., Sari, N. M. W., Danasari, I. F., & Mulyawati, S. (2023). Sosialisasi Cara Menulis Sitasi dan Daftar Pustaka pada Mahasiswa Program Studi Pendidikan Matematika. Jurnal Pengabdian Kepada Masyarakat Nusantara, 4(3), 2038-2043. https://doi.org/10.55338/jpkmn.v4i3.1301
License
Copyright (c) 2023 Baiq Rika Ayu Febrilia, Novia Alifah Fauzia, Siti Harni Astuti, Ni Made Wirastika Sari, Idiatul Fitri Danasari, Sri Mulyawati
This work is licensed under a Creative Commons Attribution-ShareAlike 4.0 International License.